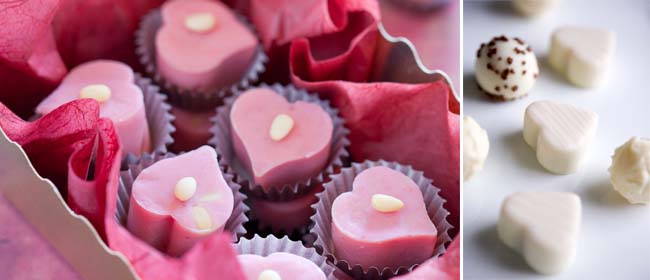 If you like white chocolate, you'll love these. They are richly decadent – a treat for yourself or your loved ones. You can also colour the truffles with food colouring for a more romantic feel.
Vanilla truffles
500g (17 oz) white chocolate, chopped roughly
2 tablespoons water
150g (5 oz) butter
2 teaspoons vanilla extract
Seeds from 1 vanilla bean
Pink food colouring (optional)
1. Place chocolate, water and butter in a saucepan and heat gently, stirring until chocolate has melted. Continue stirring over low heat for 10 minutes, until mixture is thick and completely combined.
2. Remove from the heat and add vanilla essence and seeds. Stir. Add a drop of pink food colour and mix in well.
3. Pour into a 20cm square baking tin lined with baking paper. Refrigerate until firm. Remove from tin and use a heart-shaped cookie cutter to cut out shapes. Roll left-over pieces into balls.