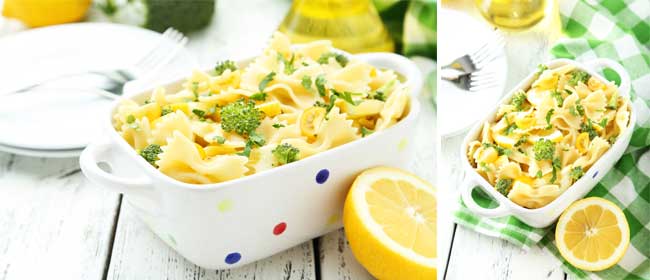 This is a delicious tasting vegetarian meal, though you can add diced ham or chorizo to the mix if you wish. Or add fresh cherry tomatoes on serving.
Broccoli & Lemon Pasta
Preparation time: 5 minutes
Cooking time: 20 minutes
Serves 4
2 cups (dry) whole-wheat bowtie pasta
1 tablespoon olive oil
1 teaspoon garlic, finely chopped (about 1 clove)
Large broccoli head
2 cups reduced-salt chicken stock
2 tablespoons cornflour (cornstarch)
2 tablespoons fresh parsley, chopped
Zest of 1 medium lemon
¼ teaspoon ground black pepper
Cook pasta according to packet instructions.
Meanwhile, heat olive oil and garlic in a large frying pan over a low-medium heat. Cook until soft, 1-2 minutes.
Add broccoli. Cook gently until heated through.
In a mixing bowl, combine chicken stock and cornflour. Add to frying pan and bring to a boil. Simmer for 1 minute.
Add parsley, lemon zest, pepper and pasta. Toss gently, and cook until the pasta is hot.