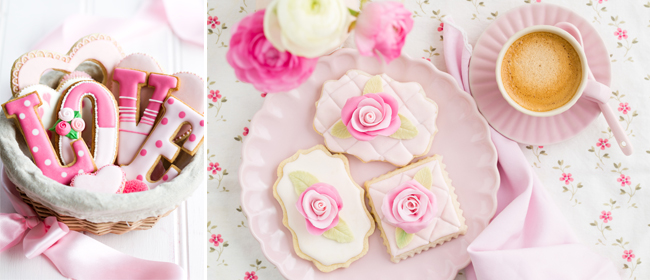 Feel like getting creative? Be inspired by these cookie masterpieces. Then click on the links below to get a whopping 50% off the online cake and cookie decorating courses.
Want to try your hand at cookie decorating? Take a squiz at these gorgeous cookie designs below to be inspired. Then, if you'd like some expert instruction, sign up to Amber Spiegel's online workshops. We LOVE Amber, and we LOVE her courses.
What do you get?



Sweet Elegance: 16 Cookie-Decorating Techniques
Learn how to ice your cookies with professional decorator Amber Spiegel. Start by achieving the perfect royal icing consistency for different types of decorating. Then learn to easily transfer intricate eyelet lace and other patterns onto your cookies. Make sophisticated fabric effects simple: luscious quilted textures, as well as breathtaking brush-embroidered flowers and borders. Antique your cookies with the look of gold marbling, cracked ceramic glazes and bronze edgings. Create rose accents with exquisite wet-on-wet techniques, eye-catching piping and more. Paint vibrant custom designs and radiant backdrops with edible watercolors. Texture your work to create "fuzzy" animal cookies and wavy icing for rustic chic treats. Make the most enticing treats at the table with new cookie-decorating techniques. Click on the link below for more information about Amber's class.
Sweet Elegance: 16 Cookie-Decorating Techniques
In the meantime, be inspired by our own cookies below. Techniques include: piping, hand painting, flooding (as for our polka dot love cookies here), brush embroidery, eyelet lace, wet on wet, quilting and bead borders.

Sweet Elegance: 16 Cookie-Decorating Techniques