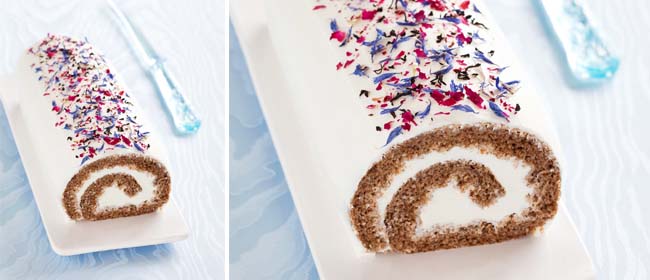 Bake a yule log or buche de Noel this festive season for a delicious treat.
First served up in the late 1800s, the buche de Noel was devised by a French pastry chef who wished to pay homage to the original yule log tradition (a rather large log burnt in the home throughout the Twelve Days of Christmas).
While traditionally a Christmas dessert, yule chocolate log is equally tasty served up at any time of the year.
Chocolate log
4 egg yolks
½ cup caster sugar
2 tablespoons hot water
80g dark chocolate, grated
½ cup sell-raising flour, sifted
4 egg whites
Vanilla cream
1 cup cream
1 ½ tablespoons icing sugar
1 teaspoon vanilla extract
1. Grease a 24cm x 32cm Swiss roll pan, line with baking paper, and grease paper. Preheat oven to 180 degrees C (350 degrees F).
2. Using an electric mixer, beat egg yolks and sugar together until thick and creamy, about 5 minutes.
3. Carefully fold in hot water and chocolate, then flour.
4. Beat egg whites in separate bowl until soft peaks form. Fold into cake mixture. Pour batter into prepared pan. Bake for 10-12 minutes, or until cooked.
5. Remove from oven and immediately remove paper and cake from pan. Roll up in the paper from the longest edge. Stand for 2 minutes. Unravel the cake, and cool. Spread with half vanilla cream. Roll up and cover the cake with the remaining cream. Decorate with dried flower petals or chocolate sprinkles.
Vanilla cream
Beat cream, icing sugar and extract with electric mixer until soft peaks form.