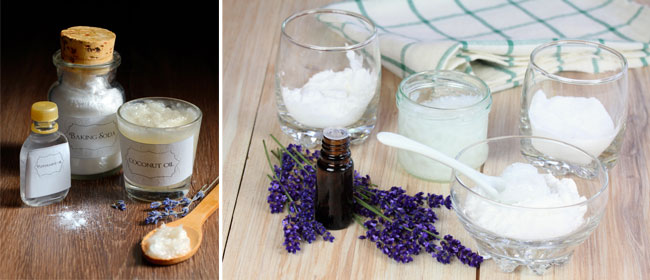 By Jane
Make Life Easy
If you ever thought that homemade deodorants didn't work, think again. This DIY deodorant is amazing, and it's seriously easy to make.
I've tested it several times against my regular deodorant – one armpit had my homemade deodorant, the other a high-strength commercial product – and my homemade deodorant lasted the longest hands down (there has been a lot of underarm sniffing lately).
For my recipe, I used lavender, peppermint and lemongrass essential oils, all of which have high antimicrobial activity, with lemongrass one of the highest. Lavender is also very calming on the skin. However, you can use other essential oils as well, depending on your scented preference. Orange, rosewood, oregano and bay are highly antimicrobial too.
And while I haven't included it in the recipe below, I like to add a couple of drops of rose geranium essential oil as well for its rose-like perfume. You could add any essential oil you like to create a certain scent, if desired.
Homemade deodorant
2 tablespoon baking soda
2 tablespoon cornflour (cornstarch)
2 tablespoon coconut oil
4 drops lavender essential oil
2 drops lemongrass essential oil
2 drops peppermint essential oil
Mix baking soda and cornflour together. Mix in the coconut oil, then add the essential oils. Mix well then pour into a small glass jar.
To use, dab a small amount on your underarms and spread to a thin layer. A little goes a long way.
Want more?
You can learn more about making natural deodorants, perfumes and beauty products in my online herb course here

Jane is Editor of Sweet Living magazine; Editor of HerbNews (the quarterly magazine for the NZ Herb Federation); Herb columnist for NZ Gardener magazine; and Weekly gardening columnist for Waikato Times, Southland Times, Manawatu Standard, Taranaki Daily News, Nelson Mail, Marlborough Express and Timaru Herald. She frequently gives talks and runs workshops across the country.