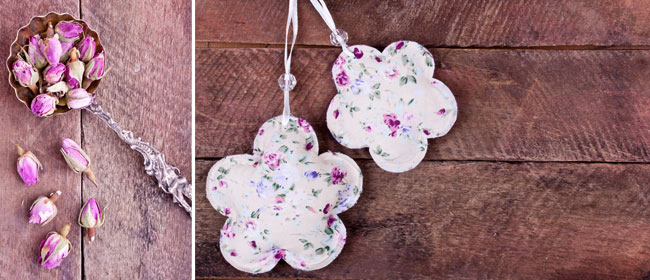 There is no need to be an expert sewer for this project. These scented bags are quick and easy to make.
Packed with fragrant rose buds (or lavender if you prefer), these lovely sachets make excellent gifts – or use them in your wardrobe, linen cupboard or lingerie drawer.
Materials
Non-fraying patterned fabric
Scented rose buds (often available at health stores)
Ribbon for hanging (optional)
Bead for each sachet (optional)
Fabric hole punch
1. Cut out 2 flower shapes from non-fraying fabric.
2. Punch a hole in the top of the 2 flower shapes and insert the ribbon through both shapes. Thread a bead through the two ends of the ribbon, then make a loop and tie at the top. Make sure the right side of the fabric is facing out.
3. Sew a hem around the flowers, sewing over the ribbon, and leaving an opening at the side for stuffing.
4. Insert the rose buds, then hand-stitch the opening closed.