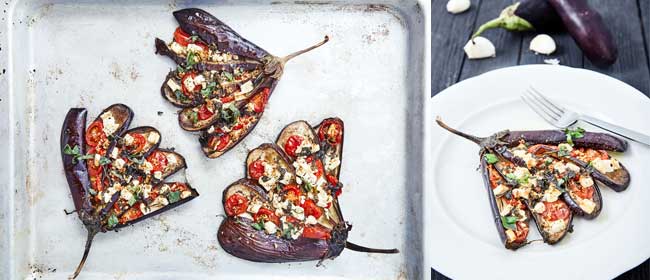 By Jane
Make Life Easy
This dish is really easy to make. It just requires a little patience as it sits in salt. The salt draws out the bitter liquid. The older the eggplant, the more likely it is to taste bitter and become soggy when cooked.
Serve this for lunch or as a side dish.
Grilled Eggplant with Tomatoes, Walnuts and Feta
Ingredients
1 small eggplant per person
Salt
Olive oil
Cherry tomatoes, sliced
Feta cheese, cubed or crumbled
Walnuts, crushed
Fresh basil leaves, chopped
Method
1. Leave the stalk attached to each eggplant if there is one and slice layers from the bottom of the eggplant to the top end (where the stalk is), stopping just short of the stalk. Fan out the slices.
2. Generously season the eggplant slices with salt. Set aside for at least 30 minutes to 1 hour. Then rinse and pat dry.
3. Preheat oven grill. Brush eggplant with olive oil. Place under the grill and cook until tender, about 4 minutes each side.
5. Meanwhile, mix together tomatoes, feta, walnuts and a little olive oil. Top eggplant slices with tomato mixture and sprinkle with chopped basil.