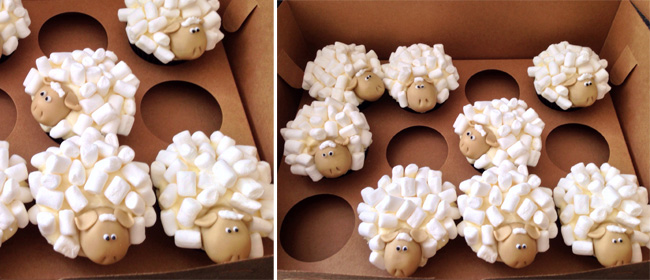 Get some sheep thrills with these woolly bully cupcakes.
Kids will love these cute little sheep – though big kids will love 'em too. Whip up a batch of cupcakes, then decorate them as follows.
Cover your cupcakes with buttercream icing (see recipe below) and set aside.
Add a drop of colouring to a piece of white fondant to create the desired colour for the sheep heads. Knead the fondant until the colour is blended. Shape into a head, and use a toothpick to form nostrils. Make ears. Form eyes with white fondant and tiny dots of black fondant, or use tiny black sprinkles. Gently press the head on to the buttercream icing or push a toothpick into the underside of the head, then push the head into the cupcake to attach.
Press mini marshmallows around the head into the buttercream icing, to form the wool.
Buttercream icing
200g butter, softened
2 ½ cups icing (confectioner's) sugar
2 tablespoons milk
Vanilla essence
Beat butter with an electric mixer until light and fluffy. Add half a cup of icing sugar to butter at a time, beating until mixed. Add milk and essence at the end.