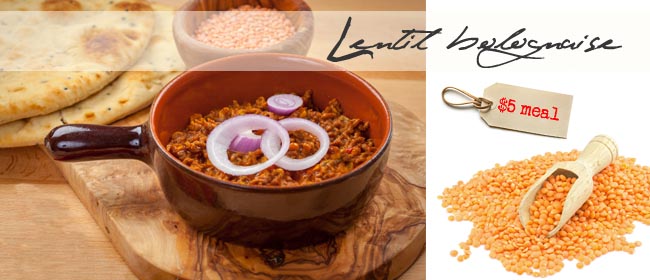 The Destitute Gourmet, Sophie Gray, takes up our $5 Meal Challenge this week with her very tasty red lentil bolognaise, which costs a mere $4.43. What's more, Random House has kindly offered two copies of Sophie's latest book Feed the Family for $15 or Less to give away. See details below on how to enter the draw. Meanwhile, on to Sophie's yummy meal.
RED LENTIL BOLOGNAISE
Red lentils are the easiest of all the pulses to work with. They are dirt cheap, fast to cook and a good source of protein. This recipe can be served over pasta, as a layer in a roasted veg lasagne or spread over a pizza base. You can use this recipe as a meat extender.
Cost $4.43*
Serves 4-6
1 heaped cup red lentils, uncooked
2 tbsp oil
1 onion, chopped
2 cloves garlic, chopped
2 x 400g tins chopped tomatoes
2-3 tbsp tomato paste
1 tsp sugar
2 tbsp basil pesto or a pinch of mixed herbs and a pinch of basil – add more or less to your taste
Salt and pepper
Bring a large saucepan of water to the boil. Pour in the lentils and stir to ensure they do not stick to the base of the saucepan. Boil the lentils for 8-10 minutes or until soft.
Heat the oil in a medium pan and sauté the onion and garlic until soft. Add the tomatoes, tomato paste, sugar, and herbs then stir in the lentils. Season with salt and pepper to taste, and simmer until flavours develop, around 15 minutes.
To use as a meat extender
Red lentils blend easily with beef mince. To use the lentils as a meat extender allow around ½ cup of lentils per 500 g mince. Cook the lentils in boiling water as outlined above.
In a medium size pan brown the meat, add the onion and garlic and continue to cook till soft. Add the remainder of the ingredients and 1 ½ tsp beef stock. When the lentils are cooked stir them into the meat sauce and simmer for a further 10-15 minutes until flavours are developed.
* Using canola oil and dried herbs instead of pesto

BOOK GIVEAWAY
Feed the Family for $15 or Less
Sophie Gray
RRP: $35
Random House NZ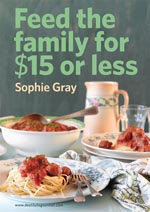 Sophie Gray's destitute gourmet mantra of 'living well by spending less' remains as relevant as ever in these tough economic times. In all her books she shows that budgeting doesn't need to be dreary or depressing. Feed the Family for $15 or Less is no exception. It's a go-to cookbook for busy, cost-conscious households, with delicious, simple and affordable recipes. Recipes such as Fragrant Chicken Lemongrass Curry, Spicy Lamb Borek, Slow-cooker Sticky Pork Chops, Chilli Beef and Roasted Peanut Stir-fry, plus soups, salads, pizzas, breads, rolls and scrolls, and more. "The destitute gourmet approach to food means anyone can enjoy delicious food that doesn't cost a fortune."
We have 2 COPIES of Feed the Family for $15 or Less TO GIVE AWAY.
COMPETITION CLOSED