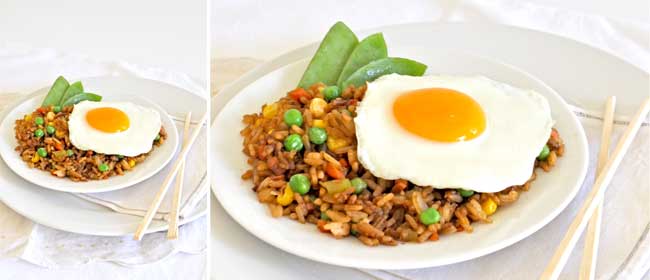 Try this delicious meal from Cassandra Fenaughty's new book, Wholesome Food for Busy Parents. It's great for busy weeknights.
Recipe extracted with permission from Wholesome Food for Busy Parents by Cassandra Fenaughty, published by New Holland, $35.00.
Fried Rice
Serves 2 adults and 2 toddlers.
This is a tasty dish to use leftover rice from the night before. Serve with steamed green vegetables. If desired, shredded chicken or bacon can also be added to the fried rice.
1 onion, diced
1 large carrot, finely diced
1 stick of celery, finely diced
1 clove of garlic, minced or finely chopped
300 g (10 oz) cooked, cold rice
75 g (2 ½ oz) corn kernels (fresh or frozen)
75 g (2 ½ oz) frozen peas
1–3 dessertspoons soy sauce
2 tablespoons honey
4 eggs
In a large deep non-stick fry pan, fry over a medium-high heat the onion and carrot for 2 minutes.
Add celery and garlic, frying until onion is transparent.
Add rice, corn and peas and fry for another few minutes.
Add soy sauce (gradually, to taste) and honey and mix through well. Set aside with a lid on to keep warm.
In a separate non-stick fry pan, fry eggs to serve on top of rice.