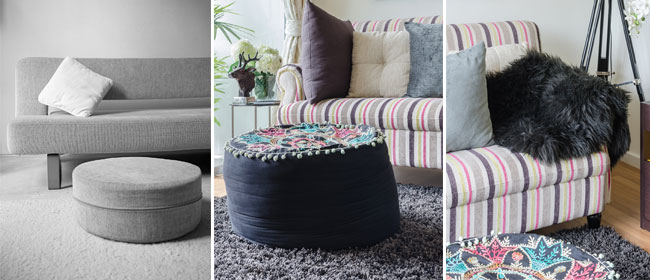 Use this easy technique to upgrade a tired or plain-looking pouffe.
Got a foot stool that needs a makeover? The easiest way to update its look is to change the top.
Choose a bright-coloured or patterned fabric for the top and a trim to line the edge. Make sure the trim has a nice finished edge that can cover the raw edges of your fabric.
Cut the fabric to size. If your foot stool is in the shape of a square, cut it slightly bigger than the top and fold the edges under and stitch down with a sewing machine.
A rounded top is a bit more tricky. Cut the fabric to the exact measurements of the top of the foot stool and use No Fray Spray on the edges, or paint with a clear nail polish.
Either glue (use a fabric glue) or hand-stitch the fabric to the top of your foot stool. Then glue or hand-stitch the trim to the edges.
And that's it!