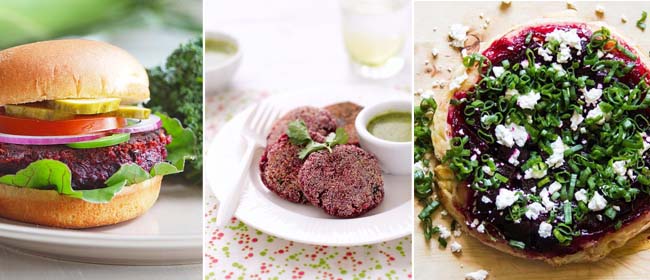 What to do with all those fine, fat-bottomed beetroot you've been harvesting fresh from the garden? (You did plant them back when we suggested in January, didn't you? See growing tips here). These days there are several varieties of beetroot available for gardeners to plant, from the typical blood-red beets to white coloured ones, and golden or candy-striped ones. A salad with a selection of different coloured beetroot is simply stunning. But beetroot isn't just for salads. Use them for pizza toppings, burger patties, soups, even sushi. Here's a round-up of delicious recipes for this versatile vegetable.

Beetroot and Feta Cheese Tarte Tatin
The clever British lad over at Five Euro Food whipped up this delicious looking tart using very simple ingredients, the stars being beetroot and feta.
If you like your recipes with step-by-step photos, head on over there to check it out.
Then, if you make it, we'd love to hear your verdict. Just post a comment below.

Beet Burgers 
Not a morsel of meat in sight. But, as Kat from Gooseberry Mooseberry says, "for vegetarians and carnivores alike, this burger has enough substance and flavor to satisfy any burger craving." That's because, along with beetroot, the burger patties include black beans.
Kat has also used the beetroot greens, which are also edible, in the burger.
Check out Kat's Beet Burger recipe here.
Beetroot Tikkis
More patties, but with a bit more bite – as you might expect from a blog called Sinfully Spicy.
Tanvi based these beetroot tikkis on the popular potato tikkis, a North Indian snack which is "nothing but small patties or croquettes, deep or shallow fried". They are typically served with an assortment of chutneys, ketchup or yoghurt.
Tanvi still used potatoes in her recipe but she also added beetroot to the mix. She then served them with green chutney. Yum!
You'll find that and all sorts of delicious recipes over at Sinfully Spicy.
Roasted Balsamic Beets & Carrots
If you're having a roast dinner any time soon, why not serve this dishy dish as an accompaniment.
"This recipe is crazy simple and can be made with any and all root vegetables, although the sweetness of the carrots and beets are really the best," says Barbara from Barbara Cooks.
This dish is perfect for using up surplus beetroot from the garden and even makes a great salad or side dish when taking a plate to a pot luck.
Check out Barbara's website for the recipe.
Borscht
This classic beetroot soup may be vegetarian or otherwise, but this particular recipe calls for stewing beef.
"To me, strong beef stock and the cheapest cut of stewing beef you can get your hands on is an indispensable basis of this hearty soup," says Expat Gourmet.
When it comes to vegetables, "I like to keep it simple with Eastern European staples such as cabbage and carrots. I have seen recipes suggest parsnips and even celeriac, however I would worry that the strong aromas would overpower the humble beets."
On to the recipe then, at Expat Gourmet.
Beetroot Cake with Chocolate Ganache
Remember this? We featured it a while back with our book review of Building a Perfect Meal.
Michele Tchea's delicious cake revamps an old favourite – carrot cake – with beetroot. We liked it then and we still like it now. Did anyone make it the first time round?
Click here for the recipe.