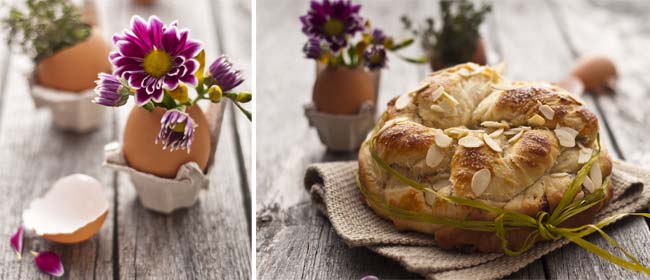 This delicious sweet bread is traditional fare for the Easter table. The braided dough has a slight lemon tang. For more of a lemon kick, drizzle the baked bread with lemon icing. Makes 2.
Bread
½ cup warm water
½ cup warm milk
2 packets active dry yeast
½ cup white sugar
2 large eggs, lightly beaten
½ cup butter, melted and cooled
2 tablespoons lemon zest
1 teaspoon salt
5 cups flour
Topping
1 egg yolk
1 tablespoon water
½ cup sliced almonds
¼ cup white sugar
Icing
1 cup icing sugar
1 teaspoon lemon juice
2 teaspoons lemon zest
½ teaspoon vanilla extract
3 teaspoons milk
Place water, milk and yeast in large bowl, stir then leave until yeast is dissolved, about 10 minutes.
Add sugar, eggs, melted butter, lemon zest and salt, and combine well, until smooth. Add flour and mix to form a dough.
Tip dough onto a floured surface and knead for 8-10 minutes. Place in an oiled bowl, cover with a tea towel and set in a warm place for a couple of hours, or until the dough has doubled in size.
When the dough has doubled, punch it down again then tip onto a floured surface and knead for another 5 minutes. Separate the dough into four equal portions and roll each into a long rope.
Place two ropes side by side and braid. Shape into a circle and place onto a greased oven tray. Repeat with the other two ropes, and make a second circle.
For the topping, mix egg yolk and water together. Brush the mixture onto the top of each bread, then sprinkle with sugar and almonds. Cover the breads and set in a warm place to double in size, between 30 and 45 minutes.
Meanwhile preheat oven to 180degC. When bread has risen, bake for 20-25 minutes or until golden brown.
To make icing, place ingredients into a bowl and mix until combined. Add an extra teaspoon of milk if necessary. The mixture should be of a consistency that drizzles easily. Drizzle over bread.