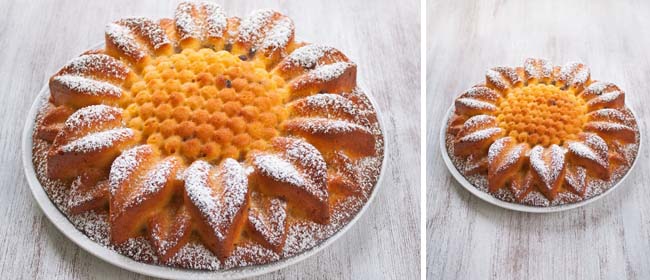 This cake looks too good to resist – which is exactly our ploy. It includes pumpkin, which many people are reluctant to try when it comes to cakes. But it really is quite delicious. The addition of pumpkin adds a sweet flavour and makes for a wonderfully moist and hearty cake. Oh, and it's a great way to trick fussy kids into eating their vegetables!
Tips for using pumpkin:
Make sure the pumpkin is cooked first, either by slow roasting it in the oven, steaming or boiling. It is important that the pumpkin is well drained if boiling, as any extra water can upset the balance of ingredients. When mashing, don't add anything to the pumpkin, for the exact same reason as described earlier. The mashed pumpkin should be at room temperature prior to adding it to the rest of the ingredients. 250g (8.8oz) of raw pumpkin should be sufficient to make 1/2 cup of mashed pumpkin.
Pumpkin cake 
Ingredients:
250g (8.8 oz) butter
1 tablespoon finely grated orange rind
¾ cup caster sugar
2 eggs
½ cup finely chopped dates
½ cup desiccated coconut
½ cup mashed pumpkin
2 cups self-raising flour
½ cup milk
Icing (confectioner's) sugar sugar for dusting
To Make:

1. Preheat oven to 170 degrees C (325 degrees F) and grease cake tin, if using. A silicone sunflower cake mould was used to create this look. There are many wonderful flower moulds that would be equally effective.
2. Cream together the butter, orange rind and caster sugar until light and fluffy.
3. Add one egg at a time and beat until combined.
4. Gently mix in the chopped dates, desiccated coconut and mashed pumpkin.
5. Fold in half the self-raising flour and half the milk, then continue to mix in the remaining flour and milk.
6. Pour the mixture into the cake tin or mould.
7. Bake for 30 minutes at 170 degrees C (325 degrees F), then reduce the oven temperature to 150 degrees C (300 degrees F) and bake for a further 45 minutes until cake is golden brown and bounces back when pressed.
8. Allow to cool before turning out onto a serving plate.
9. Dust the 'petals' of the pumpkin cake with icing (confectioner's) sugar and serve.