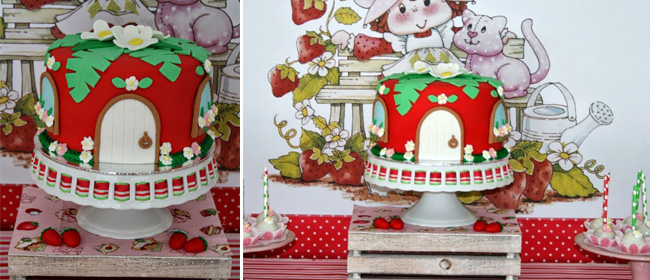 Penny Power of Little Housewife throws a party to beat all parties for her gorgeous 4-year-old daughter. Here, she shows us how she did it. PLUS, see the giveaway at the bottom of this article.
It all started with a vintage Strawberry Shortcake DVD. There was talk at one point of a mermaid or Lalaloopsy party (both excellent ideas!) but once she watched the original Strawberry Shortcake cartoon (declaring it much better than the modern one) her mind was made up – the theme was to be vintage Strawberry Shortcake for Madeline's 4th birthday. Her vintage loving Mumma was thrilled!
The first thing I always do is choose the invitations and then build the party around its design. These gorgeous invitations were designed by Itsy Bitsy Invitations on Etsy.  I had them printed by printing.com and popped each invite into a polka dot paper bag from our local $2 Store. I made and printed the name labels myself.
We hosted the party at home this year. I was a little nervous at the thought of 12 (it was supposed to be 6 but Madeline kept inviting people!) kindergarteners in our house but I can honestly say that they were all absolutely lovely and it was the least stressful party I've ever hosted.
So, on to the party details. Starting with the main table…
I made the birthday cake which was based on vintage Strawberry Shortcake's house. It's my favourite cake I've made yet. The whitewash wooden crates, which I used as table risers, are from Miss Mouse Boutique.
The cake was a vanilla polka dot cake. I made a madeira cake and added red, pink and green cake pops inside which looked like polka dots when we cut open the cake.
Chocolate Kisses.
Marshmallow Kebobs.
Lolly Log.
Lamingtons (which are a bit wonky).
I made each of the kids a party hat to wear on arrival. They had four designs to choose from…
Plus, there was a special hat for the birthday girl. She loved it!
For decoration (and not to waste any precious fabric) I made a rag banner out of the scraps I had left over from making the party hats.
We had a few vintage decorations dotted around the table too. I made this yarn wreath.
And printed this image from the internet. The mini bunting was from Valentine's Day.

** GIVEAWAY ** 
Penny Power is a keen party planner, baker, crafter and decorator. She blogs over at Little Housewife, where she crafts and bakes and generally has lots of fun. Check out her Cinderella party here too.
She also custom makes and sells party hats (as seen above). These hats are professionally finished, both inside and out, using high quality materials (see below). To order a set, email Penny here.
WIN!!
Penny is kindly offering Sweet Living readers the chance to win a custom made party hat pack for your little one's party.
To enter the draw, simply post a comment below. Tell us what you like best about Penny's gorgeous Strawberry Shortcake party.
OPEN TO NEW ZEALANDERS ONLY.
COMPETITION CLOSES ON 27 JULY, 2014 at midnight.