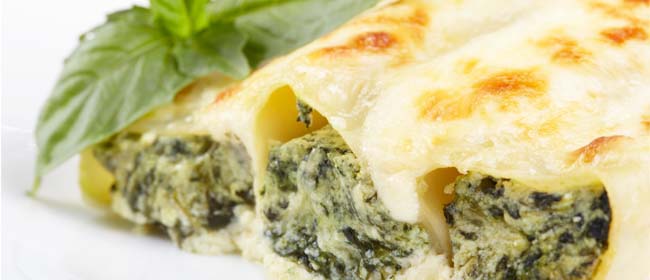 This yummy spinach and cottage cheese cannelloni is great for vegetarians, or for those wanting to incorporate at least one meatless meal into their week. The sauce and filling can be made ahead of time, then it's simply a case of filling the cannelloni, covering it with the topping and popping it in the oven to cook. The whole meal can be made a day or so in advance and then heated when needed. Serves 4-6 people.
Spinach & Cottage Cheese Cannelloni
Ingredients:
2 Tbsp oil
2 medium-sized onions, finely chopped
4 cloves garlic, finely chopped
1 small capsicum, chopped
1 tsp dried basil
1/2 tsp thyme
1/2 tsp brown sugar
1/2 tsp salt
300g tomato purée
1 Tbsp wine vinegar
1/4 cup water
Filling:
1kg fresh spinach or 2 cups thawed and drained frozen spinach
1 cup cottage cheese
1 tsp dried oregano
1/2 tsp salt
1/2 tsp brown sugar
1/4 tsp grated nutmeg
black pepper to taste
1 packet of cannelloni tubes (about 16)
Topping:
1 cup cream cheese
1 cup grated cheese (we like to use 1/2 cup tasty cheese & 1/2 cup mozzarella)
To Make:
Sauté the chopped onions and garlic in oil, stirring occasionally. Add capsicum, stirring until everything has softened. Add basil, thyme, brown sugar and salt, then the tomato purée, wine vinegar and water. Bring to boil, then reduce heat and leave to simmer. Stir and check from time to time while making the filling.
Cook fresh spinach by adding it to a large pot of boiling water and cooking for approximately 2 minutes. When spinach has wilted, remove and drain well. Chop spinach coarsley and place in medium-sized bowl. If using frozen spinach heat oil in a frypan and cook the spinach until slightly dry then continue as per fresh spinach.
Add cottage cheese, oregano, salt, brown sugar and ground nutmeg to the spinach, stir, then season with black pepper.
Lightly butter or oil a shallow casserole dish to hold cannelloni. Fill each cannelloni tube with the spinach and cottage cheese mixture and place in the casserole dish. Don't overfill the cannelloni as they may break.
Once all the tubes have been filled and arranged in the casserole dish pour over the sauce. Make sure the sauce settles over the entire casserole dish as the cannelloni will not cook properly if not entirely covered. Shake the dish gently to help the sauce distribute more evenly and make sure it gets into all the little corners.
Soften the cream cheese either in the microwave (no more than 30 seconds) or by placing container  (unopened) in a bowl of hot water for a few minutes. Spread evenly over cannelloni tubes. Lastly, sprinkle on the grated cheese and bake at 180degC or 350degF for approximately 40 minutes.
The cannelloni is ready when the top is nice and brown and the pasta is tender. Great on its own or serve with fresh salad.