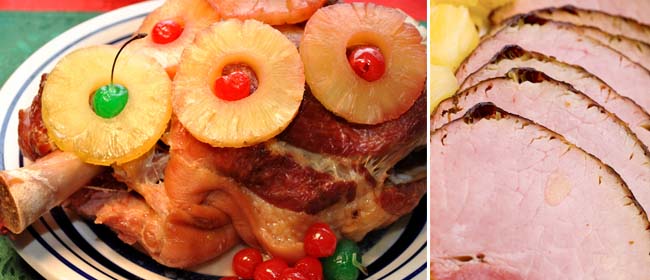 Here is a slightly tropical twist to the usual Christmas ham, which we're sure will go down a treat! Decorate it with pineapple slices and cherries to add an extra splash of colour.
Christmas ham with rum and pineapple
Serves 12– 14
Ingredients:
8-9kg (282-317 ounce) cooked leg of ham
6 litres (200 ounces) pineapple juice
500ml (17 ounces) dark rum
400g (14 ounces) dark brown sugar
3/4 cup granulated sugar to glaze ham
Sliced pineapple and glazed cherries to decorate (optional)
To make:

1. Add the pineapple juice, um and brown sugar to a large stockpot (the pot should be big enough to comfortably hold the leg of ham and the liquid). Place on a high heat and stir mixture until the sugar has dissolved.
2. Carefully add the leg of ham to the liquid, making sure the juice mixture completely covers the ham. Add more juice or water if needed. Bring mixture to the boil, then reduce heat to medium. Simmer for around 1 ½ hours. You should find that after this time the rind becomes a little easier to peel off.
3. Leave your leg of ham in the stockpot for an additional half hour to allow the flavours to fully infuse into the meat. Keep it on a very low heat, just enough to keep it warm.
4. In the meantime, prepare a large roasting dish by lining it with foil. Take out the leg of ham and place it on the wire rack within the roasting dish. Allow to stand until you are able to easily handle the ham to remove the rind. Use this time to preheat your oven to 220 degrees C (425 degrees F).
5. Using a small sharp knife, carefully remove the rind from the ham, leaving a nice layer of fat.
6. Score across the fat at about 4cm (1 ½ inch) intervals, cutting lightly through the fat but not the meat. You should end up with a diamond pattern across the ham.
7. Sprinkle the granulated sugar liberally over the scored fat and place in preheated oven. Bake for approximately 20 minutes until you see the fat and the sugar caramelise. Keep a careful watch on your leg of  ham at this stage to ensure the sugar doesn't burn!
8. Serve as is or decorate with pineapple slices and glazed cherries.