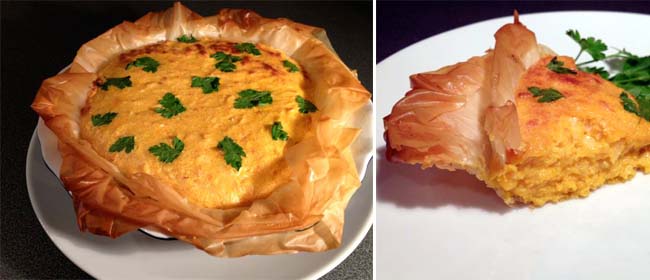 This is a hearty dish suitable as a main meal with a side salad, or for taking along to a picnic or shared lunch with friends. While this pie is vegetarian, you can substitute the pine nuts for bacon rashes if you prefer.
The pie has a great depth of colour, and the addition of beaten egg white ensures the dish has a wonderfully light texture. Add to all that the crunchiness of the filo (phyllo) and this pie comes up trumps.
This dish also works well with a combination of pumpkin and carrot.
Savoury Pumpkin Filo Pie
Ingredients:
250g (8oz) pumpkin (or combination of pumpkin and carrots)
4 sheets of filo (phyllo) pastry
2 tablespoons vegetable oil
1 onion, finely chopped
1 tablespoon pine nuts, finely chopped
185g (6oz) grated tasty cheese
2 eggs, separated
2 tablespoons sour cream
Pinch chilli powder (adjust to how hot you would like the dish to be)
Freshly ground black pepper
1 tablespoon fresh flat leaf parsley
To Make:
1. Cook pumpkin and carrots until soft, mash them and set aside.
2. Brush each sheet of filo pastry with vegetable oil  and layer them in an oven proof dish. You will find that the sheets will need to be folded over or cut to fit your dish. The beauty of this dish is that you can use up crumbly or flakey filo – the end result can look  great with a 'ragged' edge to it, or if you prefer you can roll the edges in before adding the filling.
3. Mix together the grated cheese, sour cream and egg yolks.
4. Cook the chopped onions in a little oil until they become soft. Mix in the chopped pine nuts and cook for a minute longer.
5. Mix together the pumpkin mash, cheese and sour cream mixture, the onions and pine nuts, then add chilli powder and black pepper to taste.
6. In a separate bowl beat egg whites until stiff.
7. Fold egg whites in with the pumpkin mixture, start with 1 or 2 tablespoons of egg white first and then incorporate the rest of the egg white.
8. Spoon pumpkin mixture onto filo pastry and sprinkle flat leaf parsley over the top.
9. Cook at 200 degrees C (400 degrees F) for half an hour or until pastry is golden brown.