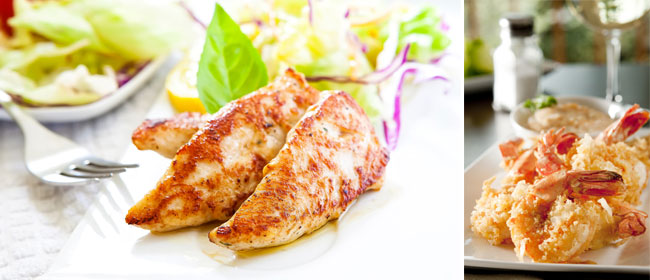 In the mood for a little friendly entertainment at your home? Fancy putting on a delectable dinner party for close friends and family? Well, you've come to the right place. Here are three quick and easy recipes for your next dinner party that will leave your guests wanting more.
Chicken medallions with orange sauce
Citrusy and perfect for those summer BBQs, this dish is a welcome addition to any Sunday lunch. It looks great when served, and is sure to satisfy even the most discerning guest.
To make, first whisk ¼ cup of all-purpose flour, ½ teaspoon of salt and a pinch of pepper in a bowl. Then, flatten chicken pieces as much as you can before dunking each piece in the flour mix. Next, turn on your barbeque (visit a specialist retailer such as Barbeques Galore if you're in need of a new barbeque unit), heat it up, and spray a light film of olive oil onto the grill's surface. Cook chicken until browned, and then transfer to a platter covered with foil.
Finally, it's time for the orange sauce. Combine 1 clove of minced garlic, ¾ cup of fresh orange juice and 1 tablespoon of lemon juice in a saucepan, and bring to the boil. Cook until slightly thickened (should take between 2 and 3 minutes).
Lastly, pour sauce over chicken medallions and serve with steamed rice.
Pacific pork kebabs with pineapple rice
Add a little sweetness to the stock standard pork kebab with a delicious pineapple and honey marinade, and leave your guests wanting more at your next dinner party.
First, make the pineapple/honey marinade by whisking ½ cup of honey and 2 tablespoons of pineapple juice in a bowl. Add salt and pepper to taste.
Next, turn on the barbeque and grill the pork and capsicum skewers until the pork is cooked and the capsicum slightly charred, making sure you coat the pork with the marinade periodically. This should take about 10 to 15 minutes.
Once the skewers are cooked and ready to go, cook your rice and season with chunks of pineapple, spring onions, thin slices of ginger, and lightly drizzle with olive oil.
Finally, place your skewers on a bed of rice – served with slices of lime, and pour remaining marinade on top.
Crispy coconut shrimp with rice
Last, but certainly not least, crispy coconut shrimp is a perfect dish that everyone will enjoy.
Firstly, combine 2 cups of sweetened shredded coconut and ¾ cup of plain breadcrumbs in a food processor until the consistency is fine. Then, in a bowl lightly beat 2 eggs and add salt and pepper to taste. Dip each shrimp in the mixture before dredging in the coconut/breadcrumb mix, and then lay each shrimp on a baking tray.
Next, heat a deep heavy-bottom pan up to medium heat, add oil, and cook the shrimp for between 2 to 3 minutes. Once cooked, transfer the shrimp onto paper towels to drain.
Finally, to make the dipping sauce, mix ½ cup of plain yogurt, 1 tablespoon of fresh lime juice, 1 teaspoon of Dijon mustard and ¼ teaspoon of curry powder together and pour in a small dipping bowl.
Serve with slices of lime and steamed white rice on the side.
Do you have any other quick and easy entertaining recipes? If so, leave them below.