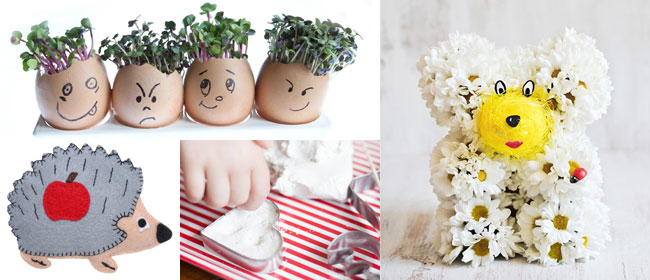 Keep your kids occupied during weekends and school holidays with these fun-filled activities.
We have some great ideas to help you occupy your little darlings, including plenty of free activities that won't burn a hole in your pocket. The trick to keeping everyone happy, we reckon, is to keep it simple and remain calm. Get creative and use your imagination. You'll be amazed at the things you can do using items you already have around the house.

Let the fun begin…
1. Home baking. Kids of all ages love getting involved with baking. Adjust tasks to suit their abilities. Make cookies to decorate, try your hand at baking bread (kids love kneading dough and creating bizarre-shaped rolls or loaves). For the more advanced chefs, challenge them to a bake-off and get friends or family to judge the end result.
2. Shared lunch. Despite having spent weeks with them at school, your kids will be aching to see their 'besties' by Monday of the first week of the holidays. So why not organise a shared lunch with a picnic theme? Everyone brings along a plate and, depending on the weather, you can have it at home, at a park or by the beach.
3. Get crafty. There are lots of crafts you can do using odd bits of paper, scraps of gift wrapping and ribbon or felt. Try some origami (see our step-by-step guide to making an origami butterfly), download our free paper cut-out dolls or make flower seeded paper. Papier maché is also a great project that can be adjusted to suit different ages. Start with the basic strips of paper in flour glue for the little ones and advance up to more intricate projects where kids can make masks, animals, bowls or other sculptures. Or make Christmas decorations using cookie cutters (photo, right).
4. Card making. This is a fantastic chance to get creative and make some wonderful cards. Let the kids decide what type of cards they would like to make and then pop them in a folder ready for use when needed. They might like to start on Christmas cards, or make Thank You cards or birthday cards… plenty of ideas to get them started.
5. Make a felt brooch. Get your scrap pieces of felt out and make a fun character out of felt. Cut out your favourite animal shapes and hand-stitch them together. You can glue on small pieces, like ears and eyes. Stuff it slightly, then glue a brooch pin on the back. See more about felt toys here.
6. Check out the local library. Often libraries have fun, free activities during the school holidays. While you're there, load up on books to further keep kids of all ages amused.
7. Swap movies/DVDs with friends and have a fun movie afternoon at home. Cook up popcorn, scoop up icecreams in a cone, close the curtains, move the furniture and replace with comfy bean bags or cushions and let the movies begin! A lot cheaper and less stressful than going out.
8. Go exploring. Chose a park, bush walk or reserve where you haven't been before and go for a walk. Take the camera along and take lots of photos along the way. Get the kids to do a wee show and tell to friends and family.
9. Play with flowers. Kids love flowers. They will like them even more if they can make cute shapes with them. Get some floral foam, cut it into the shape of an animal, and let your kids decorate it with flowers cut from the garden. Stick on paper or plastic eyes and other body parts. Use half dome shapes for ears and paws. They can be attached to the main body with wire (push wire halfway into dome, then push the other end into the body).
10. Build sand castles. A fun activity regardless of the time of year. Rug up against cold winds and bring along a flask of hot chocolate to enjoy afterwards if the weather is cool. Slip, slop, slap if the weather is hot. The fresh air, the joy of getting creative and slightly grubby… a winning combination for kids.
11. Get the bikes out. Cycling is such an enjoyable activity to involve the whole family in. Again, adjust to suit the age of your child. Many areas have great bike paths for young ones, and for the older children there are sure to be more challenging tracks to discover in your area.
12. Visit the zoo or local wildlife park. OK, not a free activity but a fun one nevertheless – and great fun in any weather. If it's raining just get out the gumboots, raincoats, bright umbrellas and splash your way around the park.
13. Start a garden. Whether it is in the form of flowers, herbs, lettuces or other vegetables, it's wonderful to get the kids involved in growing things. Lack of space should not be a concern as you can grow chives or alfalfa, cress or mustard sprouts in something as small as eggshells – a great wee project for younger kids as they get to see results within 3-5 days. Place a moist cotton ball in an empty eggshell, add alfalfa seeds and leave on the windowsill. Check from time to time to ensure the cotton ball is still moist but not saturated.
14. Fly a kite.
15. Create a treasure hunt. Kids of all ages love doing treasure hunts, either inside or outside. Use picture clues for young ones and more complex clues for older children. The length of the treasure hunt will also depend on the age of the kids involved. Have a trophy or medal for the winner and make the treasure something that can be shared by all.
16. Put a puzzle together. This can be a great family activity, with everyone joining in to help fit the pieces in place. More challenging puzzles can be started and left in a safe place to come back to from time to time. This is very rewarding when the puzzle is finally completed!