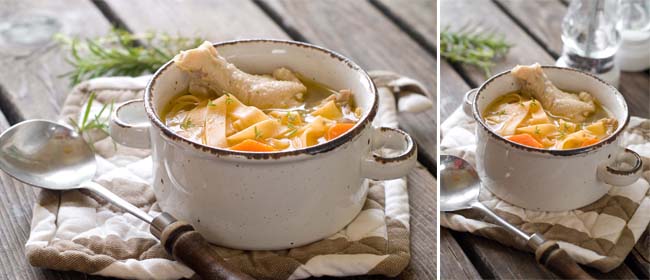 This is a quick and easy way to make a yummy chicken soup, perfect for the chilly winter days.
Chicken soup has been proven to be beneficial against upper respiratory infections (see the scientific explanation here – plus an outline of the soup's other benefits). It's recommended that you use a whole chicken or chicken pieces, as the bones contain important nutrients, such as calcium, zinc and magnesium, which add to the goodness of the soup.
The wonderful thing about this recipe is that you can adjust it to suit your taste. You may wish to add leek, celery or potatoes and omit the noodles. Serve up a large bowl of this healthy soup, some fresh crusty bread on the side, and dinner is sorted. Kids love it too! Should you have any left over you can either freeze it or enjoy it for lunch. A yummy soup that is healthy at the same time. We like that.
Chicken Noodle Soup
Ingredients:
1 small chicken, or 500g of chicken pieces
1.5 litres of water
2 sachets of cream of chicken soup
3-4 carrots
Packet of dry egg noodles
Fresh rosemary, or herbs of your choice.
Method:
1. Place small chicken or chicken pieces into a saucepan with the 1.5 litres of water and bring to the boil. Simmer until chicken is cooked, about 20-30 minutes or until the meat falls of the bone.
2. Remove cooked chicken and mix in the 2 sachets of soup, then add chopped carrots.
3. Shred the chicken off the bones and discard the bones. Place dry egg noodles and shredded chicken into the soup and cook for further 3-5 minutes. Garnish with fresh rosemary, or other herbs such as thyme, oregano or parsley.