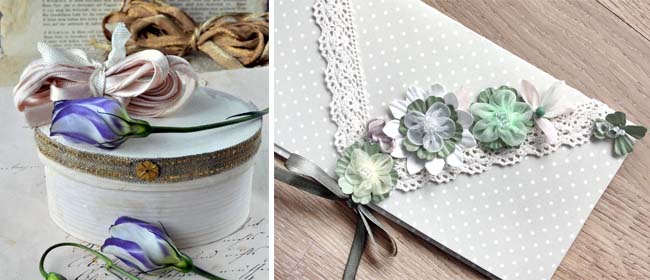 Add a touch of elegance to your gifts this year – use inexpensive craft supplies and recycled materials to create your own prettily wrapped presents. Take your cue from these inspiring gifts.
1. Box It
This idea couldn't be simpler. All you need is a gift box and some ribbon or lace. If you have a plain brown box, paint the lid and glue old wrapping paper to the sides to give it a shabby chic effect.
Use a hole punch to punch holes around the rim of the lid, then thread your ribbon through the holes and tie the ends into a bow.
Easy!
2. Square v. Oval
We have a stash of these oval boxes – they were really popular a few years ago. You can still buy plain brown cardboard ones at most craft stores.
Try your hand at decoupage, gluing either fabric or paper to the sides of the boxes and lids. You can use old wallpaper, old wrapping paper or scrapbooking paper – or even paper napkins.
Then trim each box with lace, buttons, fringes – any pretty embellishment that you have stashed in your craft drawer.
3. Oval – again
We told you we had a lot of these. You too? Turn yours into a romantic gift box. As above, adding lace trim and pretty buttons will transform a drab box instantly.
If you have some old letters, old sheet music, or even old damaged books, trim the pages to size and decoupage your box with them.
Or you could simply paint the box a pretty pastel colour. Test pots or leftover paints are ideal for this. Try something like Resene's metallic or pearlescent paints, which give a shimmering effect.
4. Embellished Envelopes
Give a plain envelope a facelift with scrap lace, ribbon and paper flower embellishments.
Trim lace to size, then use a glue gun to fix the lace and flower embellishments to the envelope. Leave the flowers at the tip of the envelope flap off for now.
Thread the ribbon through a hole in the lace at the tip of the envelope flap, then tie into a bow. Then glue the remaining flowers just about the bow.
5. Rustic Beauty
Brown paper makes a superb wrapping paper, especially when it's dressed up with lace and ribbon.
Available from office supply stores, it's not only inexpensive, there's much more of it on a roll than ordinary wrapping paper.
Trawl through local garage and yard sales, school and church fairs and second hand and charity shops to find cheap lace, ribbon, buttons and costume jewellery.
Or head out into the garden and gather autumn leaves or fresh flowers for adorning your gifts.
6. Bow Substitute
Instead of a bow, top your gifts with a paper butterfly. We like bows, but if the recipient is a fan of animals and insects, they might just appreciate something a little different.
This butterfly is easy to make. Using lightweight card in three different colours, cut out three butterfly shapes in three different sizes. Glue the thoraxes on top of one another, then glue the whole butterfly to the top of your gift.
Exquisite paper butterfly cut-outs
Heart-shaped paper butterflies
7. Recycle Tins
These vintage cake tins make superb gift boxes. And they're a dime a dozen at charity shops.
Or you could raid your mother or grandmother's or aunt's cupboards. These tins were popular years ago, so they may well be hoarding a few of these for just such an occasion. Mums always know best.
These old tins also make great storage containers for sewing supplies, such as your buttons, laces, ribbons, zips, cottons, etc.
There are plenty of pretty baskets at charity shops too that are great for holding individual gifts or for holding several small gifts.
8. Wheel It In
Add some humour to your gift-giving by placing your present on a vintage toy truck and wheeling it in.
Or present your gift on a vintage tray or a pretty glass or silver platter. If it's for Mum, nothing could be prettier.