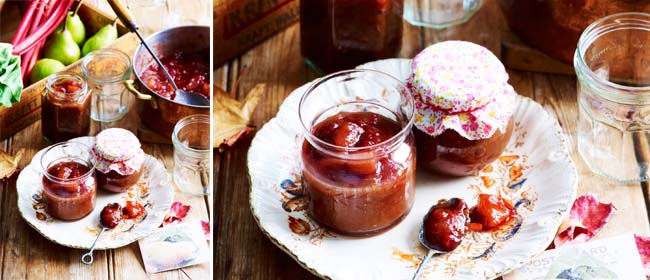 Use up excess produce from the garden to make this flavoursome chutney. Serve as part of a cheese platter or with roast pork.
Pear, rhubarb and cinnamon chutney
3 medium pears (690g), peeled, cored, chopped coarsely
2 medium red onions (340g), chopped finely
3 cups (330g) coarsely chopped rhubarb
1½ cups (330g) firmly packed light brown sugar
2 cups (500ml) cider vinegar
2 teaspoons ground cinnamon
3 fresh long red chillies, sliced thinly
1 teaspoon coarse cooking salt (kosher salt)
1. Stir ingredients in large saucepan over high heat, without boiling, until sugar dissolves; bring to the boil. Reduce heat; simmer, uncovered, stirring occasionally, about 50 minutes or until chutney is thick.
2. Spoon hot chutney into hot sterilised jars; seal immediately. Label and date jars when cold. Makes 4 cups
Note: Store chutney in a cool, dark place for at least three weeks before opening. Refrigerate after opening.
Extracted with permission from The Australian Women's Weekly, Classic Preserves (ACP Books, RRP $34.95).
Available from Bookstores or online at Bookreps.co.nz.
Photographer: Ian Wallace; Stylist: Louise Pickford