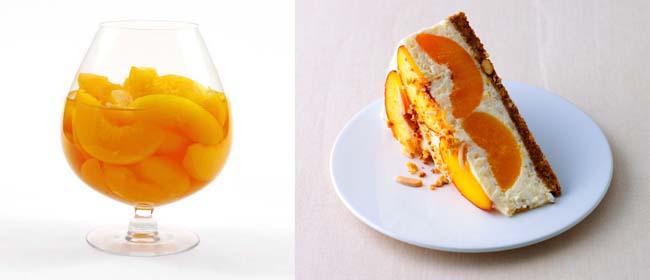 This cheesecake recipe is an old family favourite from one of our Sweet Living team members, passed down from one generation to the next. It originates from the Netherlands and traditionally uses quark (kwark) as one of the main ingredients. Quark is not so readily available here in New Zealand (at least, it wasn't a few years back), so it was adapted using cream cheese. The addition of lemon gives it a lively, fresh taste, yet it is subtle and not overpowering. If you wish, you can use mandarins in place of peaches.
Peach Cheesecake
Ingredients:
200g (7 oz) malt biscuits
100g (3.5 oz) butter
1  1/2 Tblsp gelatine or 6 sheets of gelatine
50ml (2 oz) hot water
Juice of 2 lemons, plus lemon rind
125ml (1/2 cup; 4 oz) cream
100g (3.5 oz) caster sugar
3 medium sized eggs, separated
400g (14 oz) cream cheese
410g (15 oz) tin peaches or mandarins
Method:
1. Grease a 23cm (9 inch) springform pan. Crush the malt biscuits in a food processor or place in zip lock bag and crush with a rolling pin until fine crumbs form. Combine melted butter and malt biscuits and spread mixture evenly on the base of your springform pan, pressing down firmly.
2. Dissolve gelatine in combined hot water and lemon juice then add lemon rind. For gelatine sheets follow the manufacturer's instructions.
3. Whip the cream with an electric mixer or whisk until firm.
4. In a large bowl, mix half the sugar with the 3 egg yolks and whisk until light and creamy. In a separate bowl, whisk egg whites until stiff then add remaining sugar to egg whites. Stir until combined.
5. Add cream cheese to egg yolk mixture and combine, then mix through the gelatine/lemon juice mixture … best done using an electric mixer to attain a smooth consistency.
6. Add whipped cream to egg whites mixture then fold into the cream cheese mixture. Pour half the mixture onto the biscuit crumb base. Place half the peaches or mandarins over the mixture and then pour over the remainder of the filling.
7. Finally, decorate with the remaining peaches or mandarins. Sprinkle with almonds or chocolate chips (optional). Place in fridge for approximately 40 minutes to firm up. Gently release from springform pan and serve.