If you love orchids, you'll love this beautifully decorated cake by Amanda Rawlins and Caroline Deasy, made super easy with moth orchid cutters and veiners (anyone can do it!). Extracted from 500 Cake Decorating Motifs.
Available from speciality suppliers, flower paste dries quicker and harder than sugar paste and you can roll it much more thinly than sugar paste to create delicate flowers.
Equipment:
Moth orchid cutters and veiners (like this one here)
Forming cup
Shaping foam mat
Ball tool
Ingredients:
10cm (4 inch) cake covered with white sugar paste
Flower paste in white, yellow, and green
Yellow food colouring paste
Pink food colouring paste
Clear alcohol
Instructions:
Roll out the white flower paste to 2mm (1/12 in) thick and use the 3-leaf moth orchid cutter for the back leaves. Press gently between the veiner and put in a forming cup. Cut 2 single round leaves. Press between the veiner and place in the forming cup over the existing leaf. Use a little edible glue to secure in place.
Cut the labellum from the white flower paste and place on the foam mat. Cut the bottom triangle in half. Use a ball tool to gently curl the top, 2 sides, and bottom so that the labellum has curled up. Roll a small ball of yellow flower paste. Press into a sausage shape and flatten, indent through the middle, and glue to the centre of the labellum. Fix the labellum to the petals in the forming cup and allow to dry.
Mix some yellow food colouring paste with clear alcohol and paint the centre of the moth orchid. Using the same method, paint pink onto the orchid and allow to dry.
Use the green sugar paste to make a stem and glue in place on the cake. Arrange the orchids on the cake and glue in place.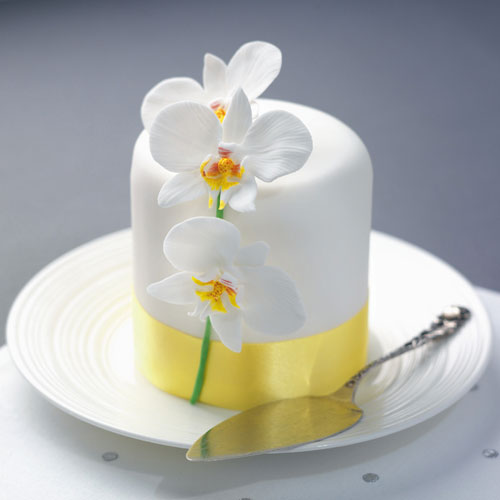 Variations:
Moth orchid cupcakes
Create the orchid from sugar paste and place on top of an iced cupcake.
Moth orchid wedding cake
Create a three-layer cake, cover with white sugar paste, and arrange a spray of moth orchids.
Purple moth orchid cake
Use edible lustre dust and purple, brown, and yellow edible paint to make a purple moth orchid.
Piped moth orchid cake
Use the orchid petal cutters to lightly indent a cake and use this as a guide to pipe the flowers with royal icing.
Painted moth orchid cake
Mix food colouring with cocoa butter and paint moth orchids on the side of a cake.
Extracted with permission from 500 Cake Decorating Motifs by Amanda Rawlins and Caroline Deasy. Published by New Holland, $24.99.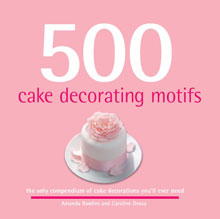 500 Cake Decorating Motifs is the perfect companion when planning your next cake. It's a great little go-to book. Whether you're celebrating a special occasion or making a spontaneous batch of cupcakes, keep this book nearby as a reference guide. The book provides step-by-step instructions to ensure successful cake decoration for bakers of all levels. We love it.