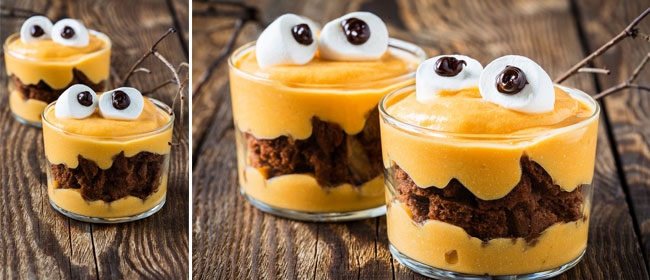 Here's a dead-easy dessert to whip up for Halloween or a kids' monster birthday party.
This dessert is super easy to make and lots of fun. We simply sandwiched chocolate cupcakes between two layers of custard, added marshmallows with chocolate to create the eyes and voila! Monsters.
Each monster will turn out slightly different depending on how the cake is layered and the way the custard settles. You can have goofy monsters with crooked smiles and eyes pointing in different directions, or scary ones with big wide mouths. The really fun part is playing with the 'eyes'. You can change the look of each monster just by placing the pupil (chocolate) in a different position on the marshmallow or by placing the marshmallows at strange angels, or closer together. This project is lots of fun!

Monster Dessert
Makes approximately 6 monsters, depending on how large the glasses are that you use.
6 medium-sized glasses
1 litre custard (make your own or use store-bought. It needs to be extra thick and creamy to 'hold' the cake)
8-9 chocolate cakes or cupcakes (use your favourite recipe or try our recipe below)
12 white marshmallows
12 chocolate buttons (or you can use melted chocolate piped on)
To Make:
Pour custard onto the bottom of each glass.
Pull  your cupcakes apart and place a layer on top of the custard. We found it worked best to start from the outer edge of the glass when placing the cake. You may find  you use anywhere from 1 to 2 cupcakes for this. It depends on the thickness of the cake you want for your 'monster'.
Pour custard over the cupcake layer. If you get custard on the sides of  the glass, just wipe it clean with a paper towel.
Using a bit of custard, 'glue' the chocolate buttons onto the white marshmallows. Remember, they don't have to be right in the centre. Experiment with putting the chocolate in different spots to give a monster look.
Place the marshmallows on top of the custard.
Chocolate Cupcake Recipe



Ingredients:
150g (5.3 oz) butter
150g (5.3 oz) sugar
1 teaspoon vanilla essence
3 small eggs
150g (5.3oz) self-raising flour
⅓ cup cocoa powder
To Make:
1. Preheat oven to 180 degrees C (350 degrees F). Grease 12 cupcake tins.
2. Cream the butter and sugar until light and fluffy, add the vanilla essence then eggs, one at a time.
3. Sift together the self-raising flour and cocoa powder and gently fold into the mixture.
4. Spread the mixture evenly between the cupcake tins and place in preheated oven.
5. Bake for 15-20 minutes or until the cupcakes bounce back when touched.
6. Remove from oven and allow to cool slightly before placing cupcakes on a wire rack.