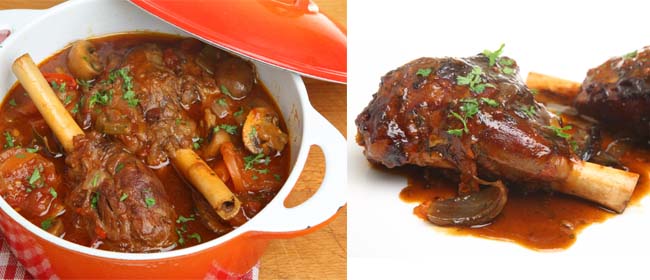 Who doesn't love the hearty flavours of a slow-cooked meal? They're perfect for cold winter days. The addition of red lentils to this dish means it's a great one-pot meal. However, you may choose to add other vegetables on the side, such as potatoes or broccoli. Serves 4-6 people.
Lamb Shanks with Mushrooms and Tomatoes
Ingredients:
1 cup red lentils
1 large carrot, peeled and sliced
2 stalks celery, chopped
6 button mushrooms, roughly chopped
2 cloves garlic, finely chopped
6 lamb shanks
2 bay leaves
½ teaspoon rosemary leaves
1 teaspoon thyme leaves
3 large sprigs of parsley
1 small onion, finely chopped
2 x 400g (14 oz) cans of chopped tomatoes
Rosemary or parsley to garnish.
To make:
1. Wash lentils thoroughly, drain, and place along the bottom of a large casserole dish. Choose a casserole dish with a tight fitting lid to lock in all the moisture while cooking.
2. Place carrot, celery, mushrooms and garlic on top of the lentils.
3. Place the lamb shanks evenly over the mixture, add the bay leaves, rosemary, thyme, parsley and onion, then pour over the tomatoes.
4. Cover casserole dish and bake at 150deg C (300deg F) for 2 to 2½ hours. Skim the fat from the surface of the casserole, remove bay leaves and sprigs of parsley. Mix ingredients well and serve. Garnish with fresh rosemary or parsley.