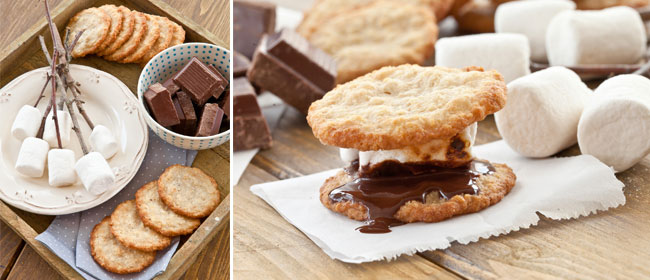 Want the ultimate recipe for that delectable treat, s'mores? We've got it!
Who doesn't like s'mores? Kids love 'em, adults love 'em and so too do inbetweeners. Traditionally they are made with Graham crackers – and if you want a traditional recipe, we love this one here. But if you want something slightly different but equally (if not more) delicious, try our hazelnut shortbread cookies instead. They are perfect for s'mores, or eat them on their own.
Makes 36 cookies.
Hazelnut shortbread cookies
1 2/3 cup ground hazelnuts (or nut of your choice)
1 ½ cups all-purpose flour
½ cup raw sugar
1/8 teaspoon salt
180g (6 ½ oz) butter, roughly chopped
2 large egg yolks, lightly beaten
1. Place hazelnuts, flour, raw sugar and salt into a food processor and process until well mixed.
2. Add butter and process until the mix resembles breadcrumbs.
3. Add egg yolks and process until mixed in.
4. Tip the mixture into a large bowl and knead until a dough forms. Shape into a ball, wrap with cling film and refrigerate for 30 minutes.
5. Preheat oven to 180 degrees C (350 degrees F). Line two baking trays with baking paper.
6. Roll out dough on lightly floured bench to 3mm (1/8th inch). Use a round cookie cutter to cut cookies and place on baking trays. Bake for 12-15 minutes, or until lightly browned. Remove from oven, and cool slightly before transferring to a wire rack to cool completely.
S'mores
This is a great treat for the campfire, home barbecue or even your fireplace during winter. Place a square of chocolate on one cookie, or Graham cracker. Roast marshmallows over a fire, then immediately place the hot, melted marshmallow on top of the cookie with the chocolate. Place another cookie on top – and you have your s'more!