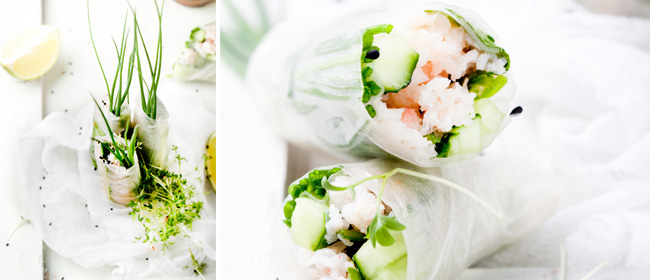 These delicious morsels are a healthier alternative to deep-fried spring rolls.
These make a satisfying lunch, or serve with crunchy peanut salad to make a more substantial dinner.
Use a mandolin, food processor with a julienne attachment or a sharp knife to cut vegetables into thin strips.
Ingredients
50-70g vermicelli
12-16 round rice paper wrappers
2 cucumbers, seeded and cut into strips
2 carrots, peeled and cut into strips
Spring onions or chives, cut into small lengths
Cress or alfalfa
Cooked prawn meat, peeled, deveined
1. Place vermicelli in a heat-proof bowl and pour boiling water over it. Let stand for 10 minutes to soften. Drain well.
2. Soak rice paper wrappers in a bowl of warm water for 30 seconds, or until soft. Lay each one out on a work surface and pat dry with a paper towel.
3. Place a little vermicelli, cucumber, carrot, spring onions, cress or alfalfa and prawn meat in the centre of each wrapper. Fold in the ends and roll up to enclose the filling.
4. Serve with a peanut sauce, or a dipping sauce made up of 2 tablespoons lime juice, 1 tablespoon fish sauce, 1 teaspoon sugar and chilli flakes (to taste).