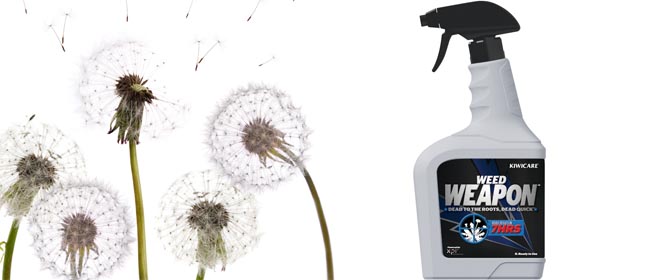 Declare war on weeds with Kiwicare's new Weed Weapon.
This fast-acting, hard-hitting spray will stop weeds dead (literally) in their tracks. Traditional weedkillers take 7-14 days before results are seen. Weed Weapon shows visible results in 1-4 days. It also kills a broader range of weeds and grasses and kills to the roots for effective control.
This product has been designed, tested and manufactured in New Zealand.
We have 5 bottles of Kiwicare Weed Weapon to give away.
To ENTER THE DRAW TO WIN A BOTTLE simply post a comment below. Anything will do. You can just say hello, if you like. Or perhaps tell us which vegetable or plant you find the easiest to grow. It might well be a weed!
COMPETITION CLOSES ON 12 NOVEMBER, 2012. Open to New Zealand residents only.