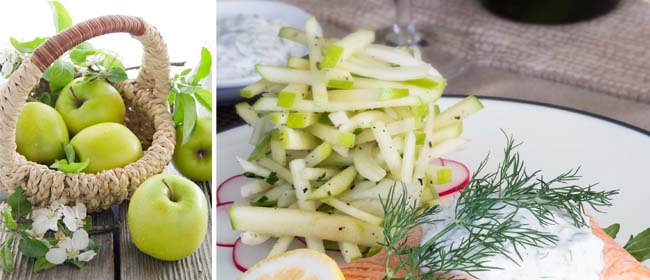 This fennel and apple salad is both crunchy and full of flavour. The fresh, mildly aniseed flavour goes well with most dishes, including fish, chicken and pork (dish it up with our smoked salmon and fennel dish). To make this as a stand-alone dish for lunch or dinner, add a few extra ingredients, such as walnuts, blue cheese or parmesan, and fresh salad greens, like rocket or watercress. Serve with a thick slice of fresh rye bread – yum!
Fennel and apple salad
Ingredients:
2 small fennel bulbs with fronds
2 Granny Smith apples
1-2 radishes
2 ½ tablespoons apple cider vinegar
2 teaspoons lemon juice
½ teaspoon honey
1 teaspoon wholegrain mustard
1 teaspoon finely chopped fennel fronds
3 tablespoons olive oil
Salt and pepper to taste
To make:
1. Trim base of fennel bulbs. Remove fronds and set aside. Cut bulb into julienne pieces and place in bowl.
2. Core the apples and cut into julienne pieces similar in size to that of the fennel and add to the bowl.
3. Thinly slice the radish and either mix in with the fennel and apple or set aside to place at the bottom of the salad before serving, as pictured.
4. Combine apple cider vinegar, lemon juice, honey, mustard and finely chopped fennel fronds, and whisk well to combine.
5. Slowly add the olive oil and whisk. Season with salt and pepper to taste.
6. Pour vinaigrette over fennel and apple and toss well to coat. Serve with radishes.