This tasty and healthy dish is perfect for guests during summer – at the bach (or holiday home) or served up alfresco at home. That doesn't mean you can't dish it up during winter. Serve it as a starter or main – your guests will love it!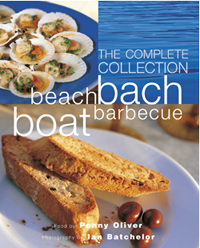 This delicious recipe (below) comes from the gorgeous book Beach Bach Boat Barbecue: The Complete Collection, which includes enticing meals in the four different sections, each celebrating an aspect of the New Zealand summer. The book features recipes from the first two books of the same title, both of which became instant bestsellers and award-winners, each reprinted numerous times.
With truly scrumptious eats, this stunning lifestyle cookbook is a superb reference for casual summer entertaining.
Recipe extracted with permission from Beach Bach Boat Barbecue: The Complete Collection by Penny Oliver, with photography by Ian Batchelor. Published by New Holland, $55.00.

Eggplant and Wood-roasted Salmon Wraps
2 large eggplants (aubergines)
olive oil for cooking
300g fromage blanc or quark
400g wood-roasted salmon
freshly ground black pepper
lemon juice to taste
200g rocket leaves
¼ cup dukkah
Trim the ends from the eggplants and slice each lengthways into six to eight 5mm slices. Cover the bottom of a frying pan with olive oil. Over a medium–high heat fry the slices of eggplant until golden brown on both sides, adding more oil as required. Drain the eggplant slices on absorbent kitchen paper and allow to cool.
Lay the eggplant slices out on a flat surface and spread each evenly with a thin layer of fromage blanc or quark. Top each slice with 25g salmon. Add pepper and a squeeze of lemon juice to taste. Place a small handful of rocket leaves across one end of each slice and roll up. Lay the rolls in a serving dish and top with a sprinkle of dukkah. Serve immediately.
MAKES 12–16