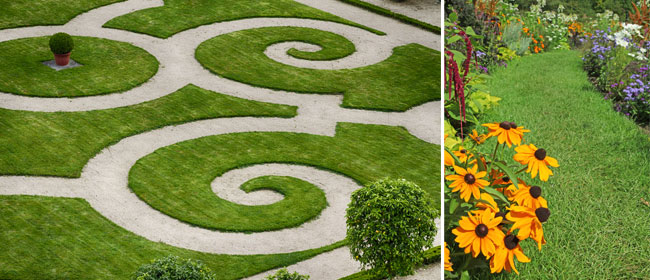 Nobody wants to destroy the environment for the sake of a beautiful lawn. Luckily, you don't have to; there are plenty of eco-friendly ways to keep your lawn in tip-top shape without damaging the fragile ecological balance that's happening in your yard. With a bit of effort and initiative, we can all do our bit with the following eco-friendly lawn improvement tips.
Check your soil
Good soil condition is the foundation of a beautiful lawn; if your soil is of a poor quality, your lawn will suffer and look shabby, dull and undernourished. If your soil proves to be of a lesser quality, turfing professionals such as Hancey's Turf can usually provide you with the best quality soil available or at least point you in the right direction. Feed your soil with plenty of organic matter, including composted fruit and vegetable waste and a good mix of manures (chicken, sheep and cow are a good start). You may also need to bring in some new quality top soil if you're looking at installing fresh turf. It may push the cost of your new lawn up a little, but it's definitely worth it in the long term.
Some manual labour
Rather than spraying liberal doses of highly toxic chemical herbicides all over the place (which can kill off beneficial insects), look at removing weeds by hand. This is, quite possibly, the most eco-friendly way that you can help your lawn, as it doesn't involve any chemicals or petrol-driven machinery, so there's no emissions or chemical run-off. However, it does involve some hard work and dedication. It can be a strangely meditative process though, and the feeling of satisfaction that you get when you've finished is immense.
Natural pesticides
Get rid of the attitude that all bugs are pests and embrace the idea of natural pesticides. Ladybirds eat (among other things) aphids and midges, and the larvae of the ladybird is equally ravenous, munching down on all manner of garden pests. To attract ladybirds into your garden, plant dill and fennel around the borders of your lawn. Lacewing larvae are another natural predator to many garden pests, scoffing on aphids, mites and insect eggs to help maintain your lawn (though they're most likely not aware they're doing so). These hungry champions are also attracted by the flower heads of fennel and dill, but they enjoy those of coriander and caraway too.
Beer
Indeed, you can have a cold one after all that weeding and toiling in the garden, but don't forget to save some beer for the snail and slug traps that you'll be making. Simply fill some small shallow trays with beer and place around the edges of your lawn. Slugs and snails are attracted by the smell of the beer and consequently they should then fall into the traps. Be sure to replace the traps every couple of days.
Taking good care of your lawn doesn't have to come at a price to the environment. Using these tips and other methods, you can keep your yard looking fantastic in a very eco-friendly way. What are your eco-friendly lawn care tips? Share them in the comments below.