These quick-to-decorate shamrock cookies will go down a treat on St Patrick's Day.
Simply bake your favourite cookie, then ice with the following technique. Make sure the cookies are completely cool first.
Using green royal icing (see consistency tip below), pipe an outline around the edge of the cookie. Then flood (fill) the inside with the same royal icing. The icing needs to be thin enough that it 'floods' the cookie, or spreads out on its own within a few seconds. Allow to dry for 24 hours.
Pipe a design with white icing on top of the green icing.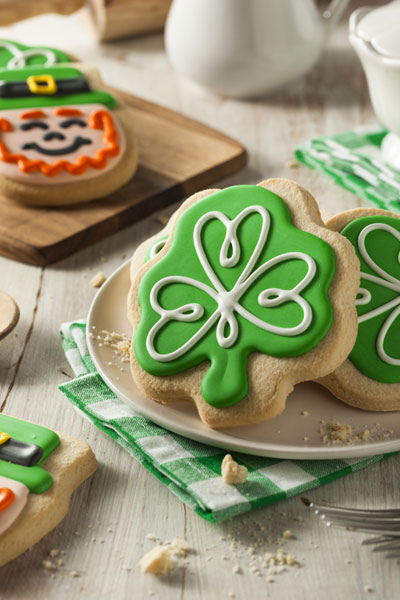 Icing consistency for flooding cookies
Start with normal icing (available from supermarkets and cake decorating suppliers), then add a couple of tablespoons of water at a time to thin down the consistency. Keep adding water until you feel you have it right. You can test the consistency by scooping out a spoonful of icing from your bowl and letting it drip back into the bowl. The icing should smooth itself out within around 15 seconds. Then it's ready. It's a matter of trial and error, depending on how much icing you are using.