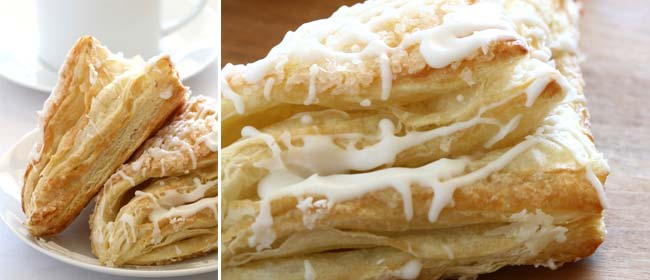 Craving for something a little sweet after dinner? Yolanda Bonfrer whips up this delicious dessert for family and friends.
This is a favourite in our family as it's so easy to make and any leftover filling works as a nice accompaniment to a bowl of piping hot porridge in the morning.
Easy apple turnovers
Makes 8
Ingredients:
4 cooking apples (Granny Smith or similar)
Bowl of water mixed with juice of half a lemon
25g (1 oz) butter
1 cup brown sugar
1 teaspoon ground cinnamon
1 tablespoon cornflour
1 tablespoon water
4 sheets of frozen puff pastry, thawed
¼ cup milk
Glaze (optional)
½ cup icing sugar (confectioner's sugar)
2 ½ teaspoons milk
½ teaspoon vanilla extract
To make:
Peel and core the apples and slice into thin wedges. Place in bowl of water to stop apples from going brown.
Melt butter in saucepan over medium heat. Drain apples and add to melted butter. Cook for around 2 minutes, stirring from time to time.
Add brown sugar and cinnamon to the apples then cook for a further 2 minutes.
Mix together the cornflour and water to make a paste, pour this in with the apple mixture and mix thoroughly. Cook for a further 2 minutes until the sauce starts to thicken. Then remove from the heat.
Preheat oven to 200 degrees C (400 degrees F) and line 2 baking sheets with baking paper.
Cut each pastry sheet on the diagonal to create a triangle shape. Place filling in half the triangle and brush sides with a little milk. Fold triangles in half and press sides together firmly. Use a fork to seal the sides securely. Place on baking sheet, allowing a little space between each to allow for puff pastry to rise.
Bake for approximately 20 minutes or until lightly brown.
Prepare glaze – mix together icing sugar (confectioner's sugar) with milk and vanilla extract. Brush over turnovers when they have completely cooled. Alternatively, leave off the glaze and serve warm with fresh cream, custard or icecream. Yum!