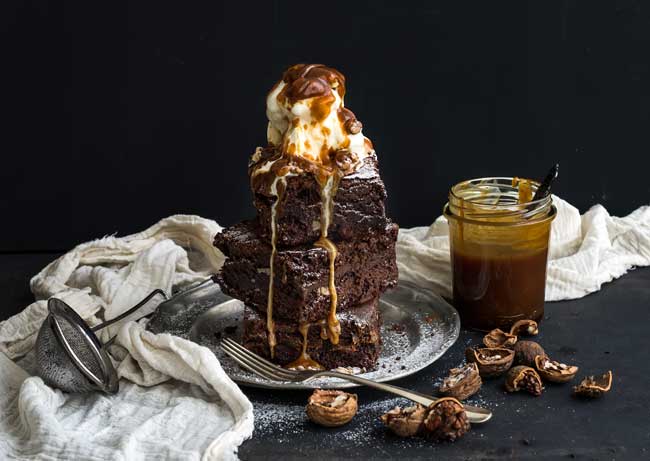 Looking for an ultra chocolatey chocolate brownie? This recipe will blow your socks off.
This brownie by itself is simply to die for. You don't actually need the salted caramel sauce. But if you want to go all out with a luxurious dessert, top your brownie with ice cream, then walnuts and then the sauce. For less of a sugar rush, omit the sauce.
Ingredients
250g dark baking chocolate, roughly chopped
150g unsalted butter
170g caster sugar
3 medium (size 6) eggs
60g all-purpose flour
½ teaspoon baking powder
150g milk baking chocolate, roughly chopped
Icing (confectioner's) sugar
Salted Caramel Sauce
1 cup white sugar
½ cup cream
2 tablespoons unsalted butter
½ teaspoon coarse sea salt (or kosher salt)
Method
Preheat oven to 160 deg C (320 deg F). Line a 20cm (8in) square baking tin with baking paper.
Place the dark chocolate and butter in a double boiler over medium heat and stir until melted. Remove from the heat and let cool until lukewarm. If you don't, you'll cook the eggs when you add them!
When lukewarm, add the sugar and eggs and mix well.
Sift in the flour and baking powder and combine.
Add the milk chocolate.
Pour batter into prepared tin and bake for 45 minutes. Remove from oven and allow to cool in the tin.
When cool, remove from tin and dust with icing sugar. If desired, top with ice cream, walnuts and salted caramel sauce before serving.
To make the sauce:
Place sugar and 1/4 cup cold water in a saucepan and stir to combine. Heat over a medium-high heat, and cook, without stirring, until the sugar/water mix turns a dark amber colour, about 10 minutes. Meanwhile, heat the cream in another saucepan. When the caramel is ready, add the warm cream slowly and whisk until smooth, about 2 minutes.
Remove from the heat and whisk in the butter, then the salt.