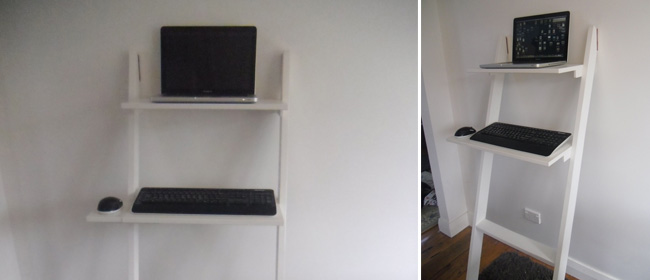 Sitting all day long? Improve your posture – and burn off some calories in the process – with this DIY standing desk. Editor Jane Wrigglesworth and her handyman dad show you how.
Many people these days sit in an office and never move from their desk the entire day. If that's you, you might want to consider building yourself a standing desk to improve your posture. There is a bonus too. Standing rather than sitting will help you burn calories.
This is a simple ladder shelf-type desk, tailored to suit your own height. We made this one for a laptop with a wireless keyboard and mouse, though you can make it to suit a desktop computer as well.
Materials
Pine or wood of your choice
Saw
T-bevel for measuring angles
Screws
Felt pieces
Paint
Method
1. First, measure where the height of the shelves will go. You will need another person to help you here. Stand straight and hold your arms out at right angles, with your fingers flexed as if you were typing. Measure the distance from the floor to your fingers and subtract 1cm. That's where your shelf for your keyboard will go.
2. Still standing, look straight ahead. Hold your laptop or computer directly in front of you so the top of the screen is level with your eyes. Have someone measure the distance from the floor to the bottom of your computer. That's where the shelf for your computer will go.
3. Cut two uprights. This may vary from person to person, depending on the individual's height. Ours measure 150cm (1.6 yards) long.
4. Cut angles at the bottom and top ends of the uprights so they sit nicely against the wall and on the floor. For the bottom end, which sits on the floor, cut an angle of 18 degrees. For the top end, measure in 3cm, then cut your angle down from here (see image below). We cut our angle at 22 degrees.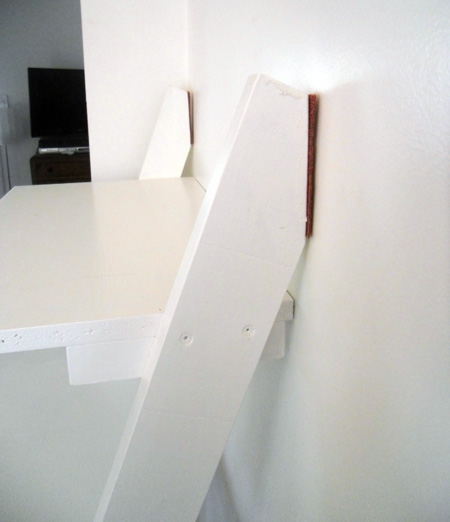 5. Measure your keyboard and add an extra 3cm. Add on another 15cm for your mouse. Cut keyboard shelf to this size. Our keyboard measured 47cm long, so our total shelf measurement was 65cm. On the side that your mouse sits (ours is on the left side), cut an indent at the back of the shelf, 12cm up from the back and 15cm in from the side (see image below). Attach shelf with screws. Fix a small brace, 15cm long x 3cm wide, underneath the shelf for support (refer to image below) on either side.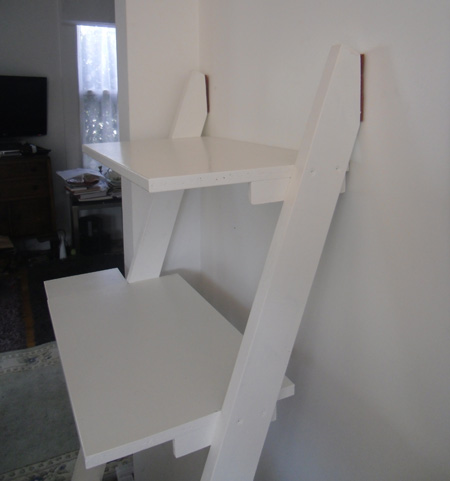 6. Cut your top shelf 50cm long (47cm + 3cm), or the length that you used above. Attach to the uprights, then attach braces.
7. Cut a 50cm long support piece and attach to uprights near the bottom. Attach felt to the bottom of the uprights and the tops where they sit against the wall. Paint your desk.