Here is a project created by Sweet Living's very own editor, Jane, and her handyman dad, Don. This stylish climbing frame is super easy to make and can be finished off in a day. If you don't have a power saw, ask your local building supplier to cut the timber to size. You will still need a handsaw though to cut the support pieces later on.
The beauty of making your own garden obelisk is that you can finish it in the colour of your choice. Make it stand out with super bright colours such as orange, blue or red or go for a softer look with eggshell blue or shabby chic white.
Garden obelisk

You will need:
4 x 1.8m x 45mm x 45mm treated pine (legs for frame)
8.6m x 45mm x 19mm treated pine (for step 2, cut lengths of 2 x 610mm, 2 x 520mm, 2 x 415mm, 2 x 310mm and 2 x 220mm; for step 6, cut lengths of 2 x 650mm, 2 x 550mm, 2 x 440mm, 2 x 330mm and 2 x 220mm)
16.8m of 12mm x 12mm treated pine (cut into 12 x 1.4m lengths)
1 x 200mm x 240mm piece of treated pine
Fence post top
Power saw (or handsaw)
Drill
40mm galvanised nails
45mm galvanised screws
25mm panel pins
Hammer
Tape measure
Pencil
Exterior paint
1. Lay two of the legs in an open-ended V, with the base of the legs 650mm apart and the top 200mm apart (measuring from outside edges).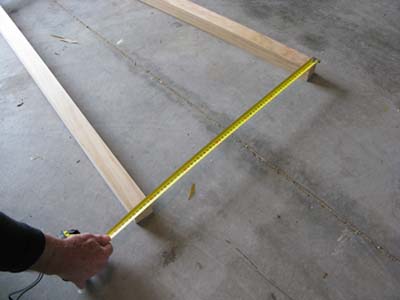 2. Use the first set of 45mm x 19mm cut lengths and place them on the V frame, as shown, spaced at even distances, and at a point where they slightly overhang the edges.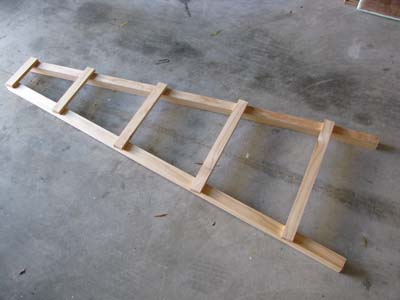 3. Using a pencil, mark the angle on the underside of each supporting piece where the wood needs to be cut to line up with the frame. Remove from frame and cut with saw.
4. Nail support pieces to frame, using two nails per end. Repeat for the other two legs, laying down another V frame and attaching the supports.
5. Lay the two frames upright on their sides. Measure and set the bottom legs 650mm apart and the top 200mm apart (measuring from outside edges).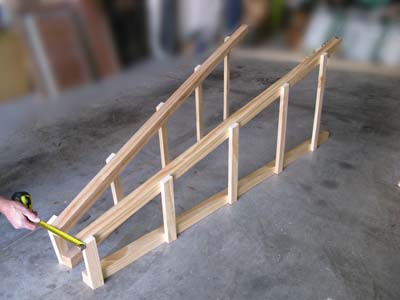 6. Place second set of 45mm x 19mm cut lengths on the frame in line with other supports. Mark cutting angle, cut and nail.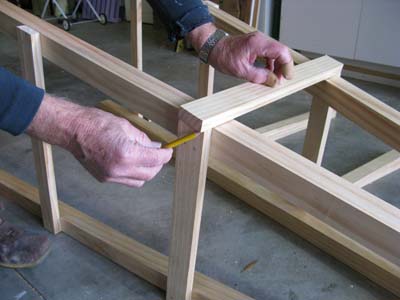 7. Drill a pilot hole in the centre of the 200mm x 240mm piece of wood. Screw the piece of wood to the fence post top. Screw to the top of the frame.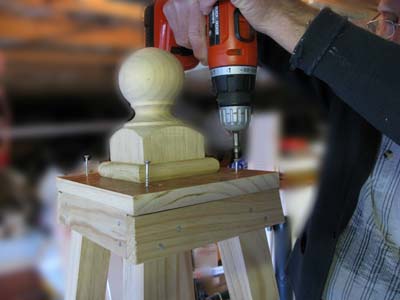 8. Nail three lengths of 12mm x 12mm pine to each side of the frame using the panel pins. Finish off by applying two or three coats of paint.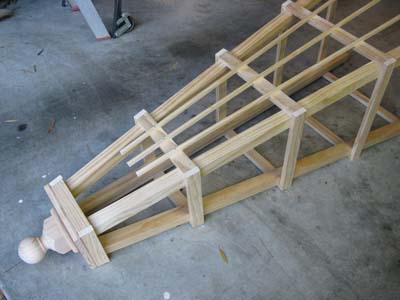 This project featured in NZ Gardener magazine.