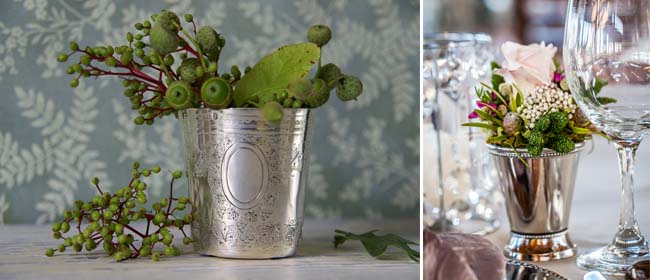 For a sophisticated table setting, utilise your old silver or silver-plated bowls, tureens and goblets to hold delicate flowers or seed heads. A chic silver tablescape works well at weddings and special occasions, or as an extra special table decoration for a dinner party for friends.
If you don't have any silverware of your own, head to your nearest charity store (or your grandmother's cupboard) and snap some up for a song. It doesn't matter if the pieces don't match. So long as you keep true to the theme – in this case silver – everything will look coordinated.
Silver sugar bowls and goblets are a dime a dozen at charity shops. Both make lovely vases for small posies.
Or use a silver tureen with a florist's frog or floral foam inside to hold your flowers. You can also place scrunched up chicken wire (netted wire) inside the tureen to secure the flower stems.
But you don't have to go all out on the floral side – or in the silver department for that matter. Just one silver goblet or jug with a single flower, such as a rose, or whatever is blooming in your garden at the time, still looks very sophisticated.
If you have a silver or stainless steel ice bucket, put it to good use. Other than holding ice, it's a great receptacle for flowers, tapered candles or napkins.
Silver is neutral so it really goes well with all colours, though pinks, purples, blues, greens and white complement it well.
Steer clear of browns and oranges.