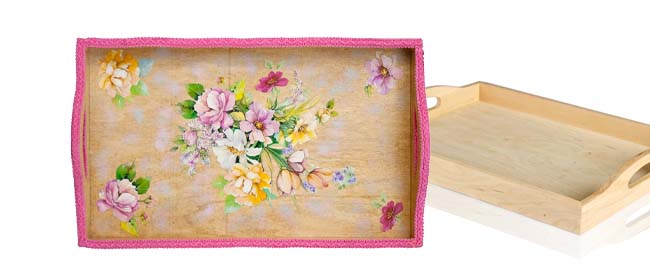 Make a plain wooden tray pretty by applying braid and patterned paper. It's fun and easy  – even the kids can do it.
You need:
Wooden tray
Patterned wrapping paper, wallpaper or pages from magazines
Braid or lace
Sandpaper
Scissors or craft knife
Modge Podge or PVA glue
Cloth or sponge
Varnish, polyurethane or Modge Podge
1. Make sure your tray is clean, smooth and dust free. Sand to remove any rough edges if necessary, then remove dust with a slightly damp cloth. Allow to dry thoroughly.
2. If you want a painted background, apply two coats of your favourite colour and allow to dry.
3. Cut out images from your patterned paper. If a white edge shows on the paper, colour it with a pen or crayon that matches the colours on your image.
4. Arrange images before gluing them in place to make sure you get the look you want, then glue, wiping away any excess glue and wrinkles with a cloth.
5. Allow to dry then apply varnish according to manufacturer's instructions. (Before varnishing, at this stage you can also paint any design you like onto the tray.)
6. When completely dry, glue braid or lace to the edges.