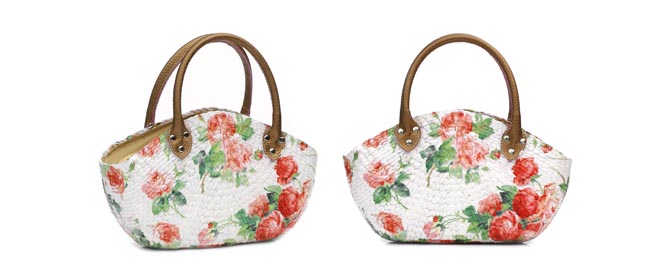 Customise a simple handbag or basket with pretty floral decoupage. We like to use paper serviettes (napkins) because they can be used on just about any surface. But first you need to thin the serviette down to just one layer (there are typically three layers). Then you're ready to go.
First, cover the bottom of the bag's handles with masking tape so they don't get paint on them, then use craft paint to paint the bag a colour of your choice. Allow the paint to dry, then apply another coat or two, according to the manufacturer's instructions.
Take your paper serviettes and cut out several roses. Apply Modge Podge (you can use craft glue instead) to your bag, then press the serviette pieces in place, smoothing out any wrinkles or bubbles. Work carefully, as the paper serviettes are very delicate.
Use a small paint brush to apply another layer of Modge Podge to the paper design to seal it. Leave to dry and your bag is ready!