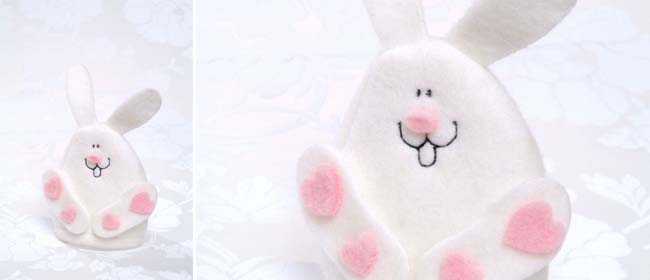 Here's a simple craft project to keep little hands busy during the school holidays. A felt egg warmer. It's so simple, there's no need for a pattern.
You need:
White and pink felt
Black embroidery thread
Needle
Craft glue
Cut out 2 white oval body shapes slightly bigger than an egg. Next, cut two ear shapes and two feet from the white felt, plus heart-shaped foot pads and a nose from the pink felt.
Glue the pink foot pads to the feet. Glue on the pink nose then hand-sew the eyes, the outline of the nose and a tooth with black embroidery thread. Alternatively, you can use a fine-tipped black felt pen to draw them on.
Sew the two body parts together with the ears sandwiched in between, leaving the bottom open.
Finally, glue the feet to the bottom of the bunny.