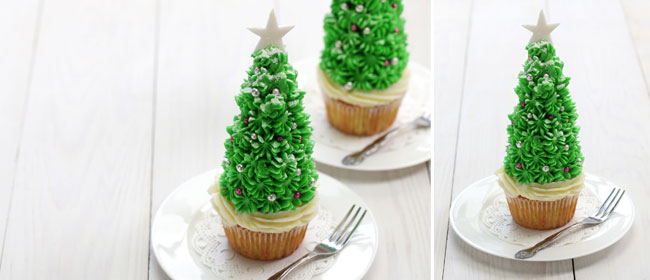 'Tis the season for Christmas trees and decorating. Get into the festive spirit with these fun cupcakes.
Yep, there's a lot of icing on these, but aren't they cute? The good news is they are super easy to make. Use your favourite cupcake recipe, then ice as below.
1. First, make small cones out of cardboard that, when turned upside down, will sit within the rim of each cupcake.
2. Whip up some buttercream icing (recipe here), then pipe a swirl of plain-coloured icing at the base using a star-tip icing nozzle.
3. Place the cone on top of the cupcake, pushing into the icing so it sits firmly.
4. Colour the rest of the icing green, then use the same nozzle to pipe the icing onto the cone in star shapes. To form a star without the peaks, hold the icing bag at a 90 degree angle to the surface between 3mm and 6mm (1/8th and ¼ inch) away from it. Squeeze the bag to form a star. Stop squeezing and pull the bag straight out.
5. Decorate with cachous and a fondant star at the top.