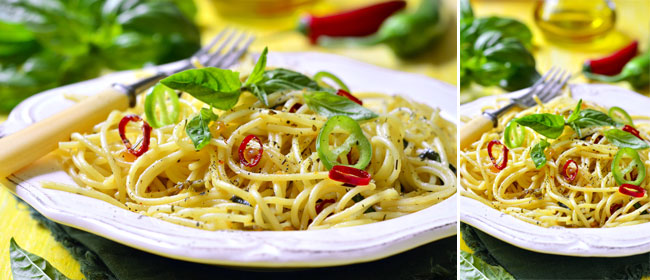 Love pasta? Love chillies? Here's a healthier spin on a favourite dish.
Hands up if you love to indulge in a big, delicious bowl of warm, creamy pasta. It's an old favourite for many of us, and the smell of garlic caramelising… such a glorious aroma.
The downside, of course, is that a negative connotation surrounds carbohydrates. On a daily basis, we are fed so much conflicting information about food and we're bombarded with so many ideas/trends/fads that it's hard to decide exactly what's healthy and what's not. But denying yourself a staple food group shouldn't be the alternative. Consider other options for maintaining your health, such as plenty of fruits and vegetables, limiting alcohol and processed sugars, incorporating exercise into your regime, practising mindful eating or joining a health retreat like Chi Of Life.
Carbs aren't always the enemy
Despite all the negative noise, there are many health benefits to carbohydrates. For instance, they help regulate the production of serotonin, a chemical in the brain that elevates your mood. Not to mention that carbs are good for your heart and they keep your memory sharp. This misconception that "carbohydrates make you fat" is only relevant when you munch on excessive quantities, but then again, this is true of just about any food.
Block all the noise. Listen to what your body is asking for and feed it wholesome, nutritious and substantial food. It will reward you by being healthy, happy and full of energy. With that in mind, get your forks ready to twirl through this feel-good chilli and garlic spaghetti recipe. It's simple, perfect for a speedy weeknight dinner and can also be used to impress dinner guests – just image yourself putting this pot on the table for all your friends to dig into.
Chilli & Garlic Spaghetti
Ingredients
Spaghetti
2 tablespoons pine nuts
Extra virgin olive oil
4 cloves garlic, crushed
2 big chillies, sliced
1 bird's-eye chilli, sliced
Rocket/baby spinach
Basil
Parmesan (to serve)
Method
Put a large pot of water on to boil for the pasta. Once the water is boiling, season with salt and add the pasta. Cook according to the packet instructions, then drain well.
Meanwhile, in a non-stick frypan, toast the pine nuts until lightly golden. Remove from the heat.
Add a few tablespoons of extra virgin olive oil to a non-stick frypan, on medium heat. When hot, toss in the crushed garlic and sliced chillies and cook until lightly golden.
Add the cooked pasta to the pan and toss with additional olive oil.
Add the rocket/baby spinach and fresh basil leaves.
Finally, add the toasted pine nuts and serve with a sprinkling of parmesan.