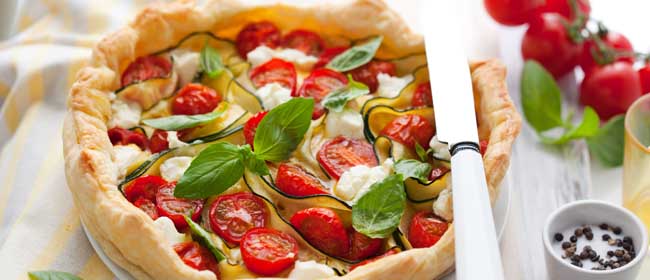 Cherry tomatoes and zucchini are ripe for the picking, and this delicious tart is the perfect base for seasonal produce. Serves 2-4 people (depending on how hungry they are).
Ingredients:
1 sheet ready-rolled puff pastry
2 tablespoons ricotta
1 teaspoon whole grain mustard
Salt and freshly ground black pepper (to taste)
1 zucchini
1 tablespoon olive oil
50g feta cheese
Small handful basil leaves
Cherry tomatoes
Pitted olives (optional)
Preheat oven to 200degC.
Cut a large circle from the pastry and place the circle on a greased oven tray. Use a fork to prick the pastry, leaving a 2cm rim free.
Mix together ricotta, mustard and pinch of salt. Spread onto pastry round.
Cut zucchini into strips. A potato peeler is ideal for this.
Place the zucchini, olive oil, crumbled feta, basil, and salt and pepper in a bowl and mix. Pour onto pastry.
Cut cherry tomatoes in half. Place tomatoes and olives on top of your pastry.
Place in oven and bake for 15-20 minutes, or until pastry is golden brown.
Serve hot or cold with an extra drizzle of olive oil and fresh basil leaves.