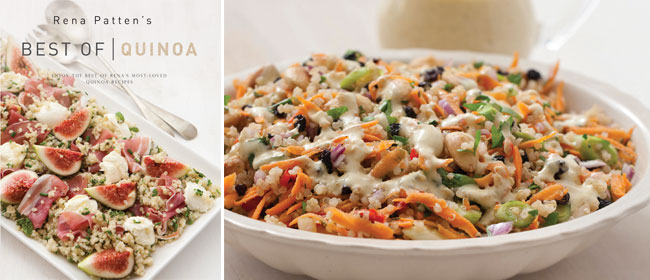 Find this delicious recipe, Almond, Currant and Carrot Salad with a Honeyed Yogurt Dressing, in Rena Patten's new book Best of Quinoa.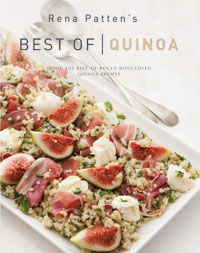 Quinoa – pronounced keen-wah – is a grain, but not just any grain. It is considered to be almost a complete food. It is very high in protein, full of vitamins, gluten and wheat free, cholesterol-free and usually organic. And it is delicious!
In the kitchen, quinoa has a huge range of uses and lends itself beautifully to so many dishes. You can also make pastry for pies using quinoa flour.
Rena Patten's book Best of Quinoa features a wonderful selection of easy-to-follow recipes for breakfast, lunch and dinner, as well as soups, salads and much more. There truly is something here for every palate. A scrumptious book!
Recipe extracted with permission from Rena Patten's Best of Quinoa, published by New Holland, $40.00

Almond, Currant and Carrot Salad with a Honeyed Yogurt Dressing
Serves 6-8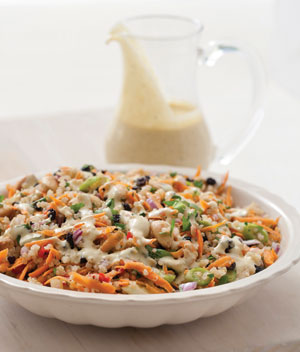 If you prefer, you can toss some of the dressing through the salad. Because the dressing is yogurt-based and therefore thicker than most dressings, I prefer to serve it on the side and let everyone help themselves.
275 g (10 oz) quinoa, rinsed and drained
700 ml (24 fl oz) water
80 g (3 oz) blanched almonds
225 g (8 oz) dried currants
3 medium-large carrots, coarsely grated
1 red onion, finely chopped
4 scallions (spring onions), sliced diagonally
2 long red chilies, de-seeded and chopped
30 g (1 oz) finely chopped flat-leaf parsley
30 g (1 oz) finely chopped mint
Dressing
6 cardamom pods
245 g (9 oz) natural Greek yogurt
2 teaspoons honey
60 ml (2 fl oz) extra virgin olive oil
Juice of half a lemon
2 tablespoons red wine vinegar
2 teaspoons curry powder
½ teaspoon ground cumin
salt and freshly ground black pepper
Place the quinoa in a medium saucepan with the water, bring to the boil, then reduce the heat, cover and simmer for 10 minutes until all the water is absorbed. Remove from heat, leave to stand covered for 10 minutes then cool completely.
Dry-roast almonds in a non-stick frying pan until golden; keep an eye on them as they can burn quickly once they start to color. Remove from pan and cool. Place quinoa into a large bowl with most of the almonds and most of the currants, then add the carrots, onion, scallions, chilies, parsley and mint.
For the dressing, break open the cardamom pods in a mortar and pestle then grind the seeds to a fine powder. Add to the remaining dressing ingredients, mix well and transfer to a small serving bowl. Place salad onto a serving platter and garnish with remaining almonds and currants. Serve with the dressing on the side.
Want more quinoa recipes?
Chicken Fillets with Pancetta, Olives and Sun-dried Tomatoes