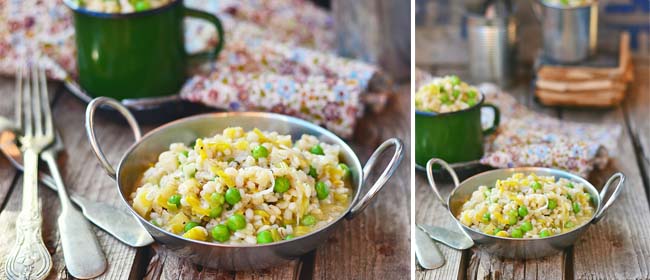 The use of barley in this dish is a healthy, mouth-watering twist for an old favourite. It's also very filling. Serve it as a main meal for 2 or as a side dish for 4-5.
Ingredients
3 cups vegetable or chicken stock
2 cups water
1 tablespoon butter
1 medium onion, chopped
2 cloves garlic, chopped
¾ cup pearl barley
1 tablespoon fresh rosemary leaves
¼ cup dry white wine
1 cup frozen peas
2 tablespoons butter
½ cup grated parmesan cheese
Method
1. Mix stock and water together and heat on the stove or in the microwave. Cover to keep warm and set aside.
2. Melt butter in large saucepan, add onions and cook until softened. Add garlic and sauté for 2 minutes.
3. Add pearl barley and cook for 3 minutes, until lightly toasted.
4. Stir in rosemary, wine and 1 cup of stock mixture. Once the liquid has absorbed, continue to add 1 cup of stock to the saucepan at a time, allowing it to become absorbed before adding more. This should take 40-50 minutes. Stir occasionally.
5. Add peas near the end of cooking, giving them enough time to cook through.
6. Stir in the butter and parmesan just before removing from the heat.