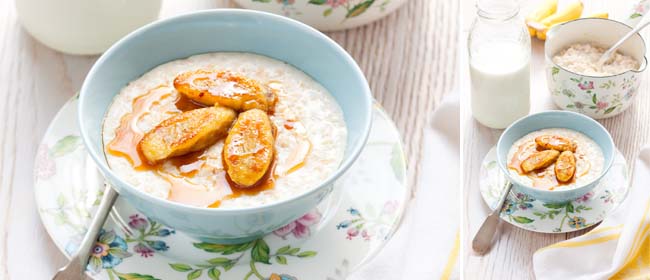 A hearty winter breakfast will fill your belly and keep you warm on cold mornings. Fuel your day's activities with this hot breakfast favourite. Serves 2.
Banana and cinnamon porridge
1 cup rolled oats
350ml milk (or water)
Pinch salt
¼ teaspoon cinnamon
Handful raisins or saltanas (optional)
Knob of butter
1 banana
A little more cold milk to serve
Runny honey
1. Place rolled oats and milk in saucepan and bring to the boil while stirring. Turn down the heat and simmer for 3-5 minutes, stirring occasionally, until you have the consistency you require. Add salt after about 2 minutes into the simmering.
2. Turn off the heat and add cinnamon and raisins. Cover with a lid and let sit while frying banana.
3. Heat butter in small frypan, cut banana into diagonals and fry in butter until both sides of cut banana are golden brown.
4. Serve porridge in bowls and top with sliced banana. Add milk and drizzle with honey.