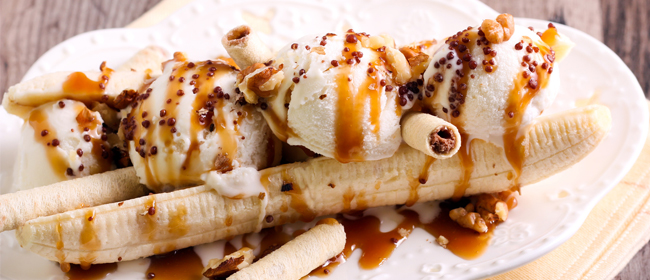 By Jane
Make Life Easier
I've been making this dessert for years – since I was a teenager – and it's still one of my absolute favourites. It's part healthy (the coconut and banana) and part not-so-healthy (the caramel sauce), but it's truly delicious. And it's so quick and easy to make.
Most ingredients I'm betting you already have in your pantry. You just need to make sure you have some cream. Having said that, I've been known to substitute with ice cream when I've run out of cream. It actually works well, but if you've got cream, use that.
Caramel Banana Split
4-6 bananas
170g (6 oz) brown sugar
60g (2 oz) butter
3 tablespoons cream
½ teaspoon vanilla extract
2 tablespoons coconut
Optional: Ice cream and whipped cream
Method:
Split each banana in half lengthwise and place in a shallow dish.
Put the sugar, butter and cream in a saucepan and cook slowly until thick. Add the vanilla extract and mix in.
Pour the sauce over the bananas. Add ice cream and whipped cream, if using. Sprinkle coconut on top.
Optional idea: Add chocolate sprinkles, wafers and nuts for a deluxe version.