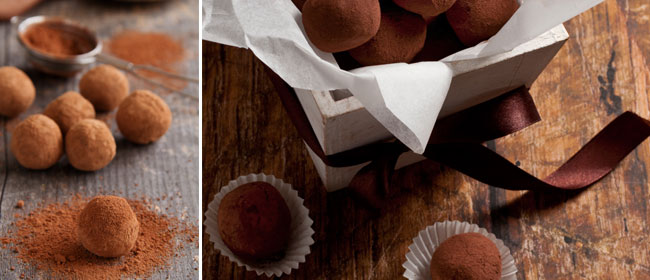 These have to be the easiest – and most delicious – rum balls ever!
In a hurry? These heavenly rum balls are incredibly easy to make. And they're versatile. You can add in other ingredients too, if you like, such as nuts, dried apricots or dates.
Makes 12.
Ingredients
250g ready-made fruit cake (or miniature Christmas pudding)
150g cooking chocolate
3 tablespoons dark rum (or 1 teaspoon rum essence + 2 tablespoons water)
Cocoa powder, for dusting
1. Crumble the fruit cake into a mixing bowl.
2. Melt the chocolate and add to the cake, together with the rum. Mix thoroughly.
3. Roll into balls then dust with cocoa powder. Alternatively, roll in crushed pistachio nuts.